Katrina Cranfield
Course

Subject area
My first experience of Loughborough wasn't on an open day like most others, but even without the liveliness of people on campus I still got an overwhelmingly positive first impression.
My family and I had flown over from Hong Kong as we were living there at the time of applying and turned up to campuses across England in the hope of seeing it. With Loughborough, we happened to park right in front of the old chemistry department that was relocating to west park so the first person we spoke to happened to be a chemistry lecturer. His enthusiasm and passion for the subject was so clear when I spoke to him about the course, and he even showed us the new developments happening in west park. This included STEM lab that was being built that summer ready for the next year, meaning I was only the second year that would use that facility.
The everyday applications of chemistry are what tend to draw me in more, particularly lecturers who are always telling us about their research and new developments in the field. The course is always being updated according to this, so when we graduate we're not outdated on what is happening in research or in industry. It also reminds you of why you're studying it, how the theories work in practice and what this information will actually allow us to do in the future.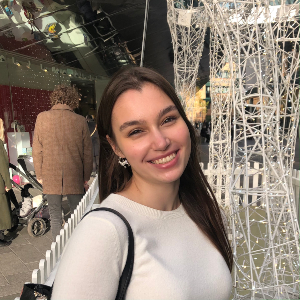 Initially, I struggled with moving back to the UK from abroad and settling into university. I spoke to my personal tutor from the department and he was able to support me and signpost me to the right services. I got in touch and spoke to the School of Science wellbeing advisor who was able to help me find ways to cope with everything going on while I waited for a counselling appointment from student services. After an unexpected rocky start, I was soon back on track and really enjoying university life the way I thought I would.
Three years after that, I had a start of year catch-up with the same personal tutor and he had remembered that things hadn't started too well for me. He has always made sure to check in and make sure I'm alright, and I'm happy to say that since getting that support at the very start I've really settled in and made a home in Loughborough.
My placement experience became so much more than just something to put on my CV. I really grew into myself as an individual and the main thing I gained was confidence. This stemmed from both successfully completing challenges myself and from the belief my colleagues had in me. It wasn't long into the placement that I was working almost independently despite only developing methods for a couple of months, and shortly after that I was asked to help collect data for two research publications being worked on.
A placement year is also a great opportunity to see what life will look like outside of university including how you choose to manage your work-life balance. It's also given me insight into the type of role I'd like to work, type of working hours and laboratory-to-office ratio I'd enjoy.
I've had the amazing opportunity to be Loughborough University's first women in science ambassador which I've continued throughout my studies. Over the years we've recruited more ambassadors and have had support from the School of Science staff to develop the initiative in ways that we as students think will benefit prospective and current students. I'm hoping it will continue to grow once I've graduated, and to be able to guide and direct the initial development has been such an exciting and memorable part of my time at Loughborough University.