Joe Kirkup
Course

Subject area
Loughborough provides a broad course relevant to all areas of chemical engineering, encompassing the fundamental technical skills and industry specifics, as well as the wider impacts of the sector. The university's sporting reputation is of course second to none; it offers the perfect balance between academics and sports.
I read an extract in a journal about some research being conducted at Loughborough regarding electrospinning that piqued my interest. I approached the researcher on my interview day and he actually answered my questions and didn't brush me aside.
The teaching quality and facilities have really benefitted my learning. My lecturers have elevated my ability to analyse and make judgements; I now question and analyse information in greater depth, generating insights I otherwise would not. We also have access to powerful tools for modelling complex systems in the department and this really aided my understanding of fluid mechanics and reaction engineering.
In the future, I would like to go into the FMCG (fast moving consumer goods)/food engineering sector, with a specialism in either alcoholic beverages or coffee. The food engineering module as part of my course made me realise that chemical engineering is so much more than fine chemicals and oil; and that there are complex but relevant challenges in the food and drink industry that are just waiting to be solved. With FMCG I can point to something on a supermarket shelf and say, "I made that".
To date, what I've enjoyed most is the professional development project (PDP) that forms part of the Chemical Engineering course. I expanded my horizons and perspectives by obtaining an academic position at the Center for Coffee Research and Education at Texas A&M University. Working alongside renowned academics in their fields galvanised me, and I recommitted myself to contributing to engineering and science. The department here in Loughborough also provided financial support for me gaining my visa to the US and paid for my flights!
From the Careers Centre, I attended mock assessment centres that prepared me for tough interviews. It was certainly worth the practice, as it undoubtably gave me an edge over other candidates.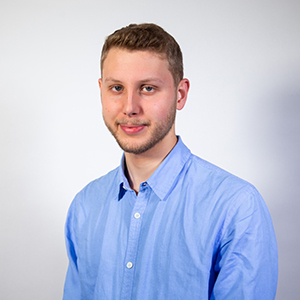 My biggest advice to someone considering this course would be to make sure to go abroad for your PDP! Loughborough is an incredible university with amazing faculty, however the chance to experience another culture while being at the cutting edge of your chosen field is just too good to miss.
My placement was at JDE (Jacobs Douwe Egberts), working as a Roasting Fundamentals Intern. I was responsible for multiple projects, including the effect of roast speed on physicochemical properties and organoleptics of coffee, in-line roast degree tracking and aroma retention and degassing, among many others. Being a big coffee enthusiast myself, the experience was truly incredible and cemented my desire to work in the FMCG industry. I developed my technical skills as an engineer, but also changed as a person being exposed to a professional working environment that was 'melting pot' of different backgrounds and cultures. I had the opportunity for solo international travel to carry out my own experiments, a privilege I don't think I would have got anywhere else.
Seeing athletes on campus alongside world-leading academics, how can you not be inspired by Loughborough? Bettering yourself in your education and sporting ability is possible; if you want to do it, you can.
In terms of extra-curricular activities, I play AU table tennis and I have held multiple committee positions, from MyLifestyle Activator to Secretary. I'm also the Chair and Founder of the Loughborough Coffee Society which aims to bring students passionate about coffee together, educate ourselves about the world of coffee and create a Loughborough coffee community providing small business support.
One of my greatest achievements whilst at university has been setting up a society. It would have been unthinkable during my first year, but having built-up the confidence and skills over the course of my study, I feel comfortable leading a group and even negotiating with external companies. Getting the opportunity to elevate the others' student experience at university is amazing. I am also going to be the primary inventor on a coffee chemistry patent, and I have a trade secret related to control of fines percentage for optimal coffee extraction from my time at JDE.