Jacob Wilson
Subject area
I chose to study at Loughborough University because of the incredible league table rankings, and when I attended an Open Day, I could see why it has so highly rated. It was different to any other universities I had visited, and I could immediately see myself studying there. I loved the green open spaces on campus, the fantastic teaching facilities, and the extensive opportunities for sport.
I've always enjoyed maths and physics, and I love solving problems, so I had decided on a career within construction from early on. I originally attended an Open Day at Loughborough University to look at some other courses in the School of Architecture, Building and Civil Engineering, but during the Open Day, I also attended a talk about the Architectural Engineering course and I immediately knew it was the right fit for me.
The course was brand new and seemed very exciting. I loved that it was an engineering course but also involved aspects of architectural design. The lecturers were very enthusiastic about the course and by the time I finished a tour of the engineering laboratory, I knew I wanted to study Architectural Engineering at Loughborough University. One of the main attractions for me at Loughborough was the outstanding facilities, particularly the large engineering laboratory with a huge variety of top-quality equipment.
I love the mix of design and science involved with architectural engineering. The course involves studying a wide variety of subjects and keeps me interested. The number of students on the course has been kept small, and as a new course, all subjects are incredibly relevant to today's built environment.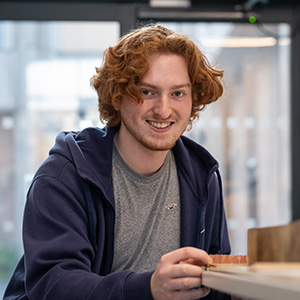 I have had a mixture of online and in-person lectures and tutorials as well as practical laboratory work. I have also enjoyed modules completed in small groups formed across the disciplines within Architecture, Building and Civil Engineering.
My first project involved working with Civil Engineering and Architecture students to come up with ways to improve the campus!
I am very impressed with the quality of teaching so far. I feel that the standard of teaching has been excellent, and the teaching facilities are state-of-the-art. All the lecture rooms are modern, bright and airy, and the engineering laboratory is the best I've seen.
My favourite project so far has been a practical research project that tests the strength of concrete. We worked in small groups to decide on the composition of cement and aggregate, then we made the mix, left it to cure, and then tested its strength by crushing it!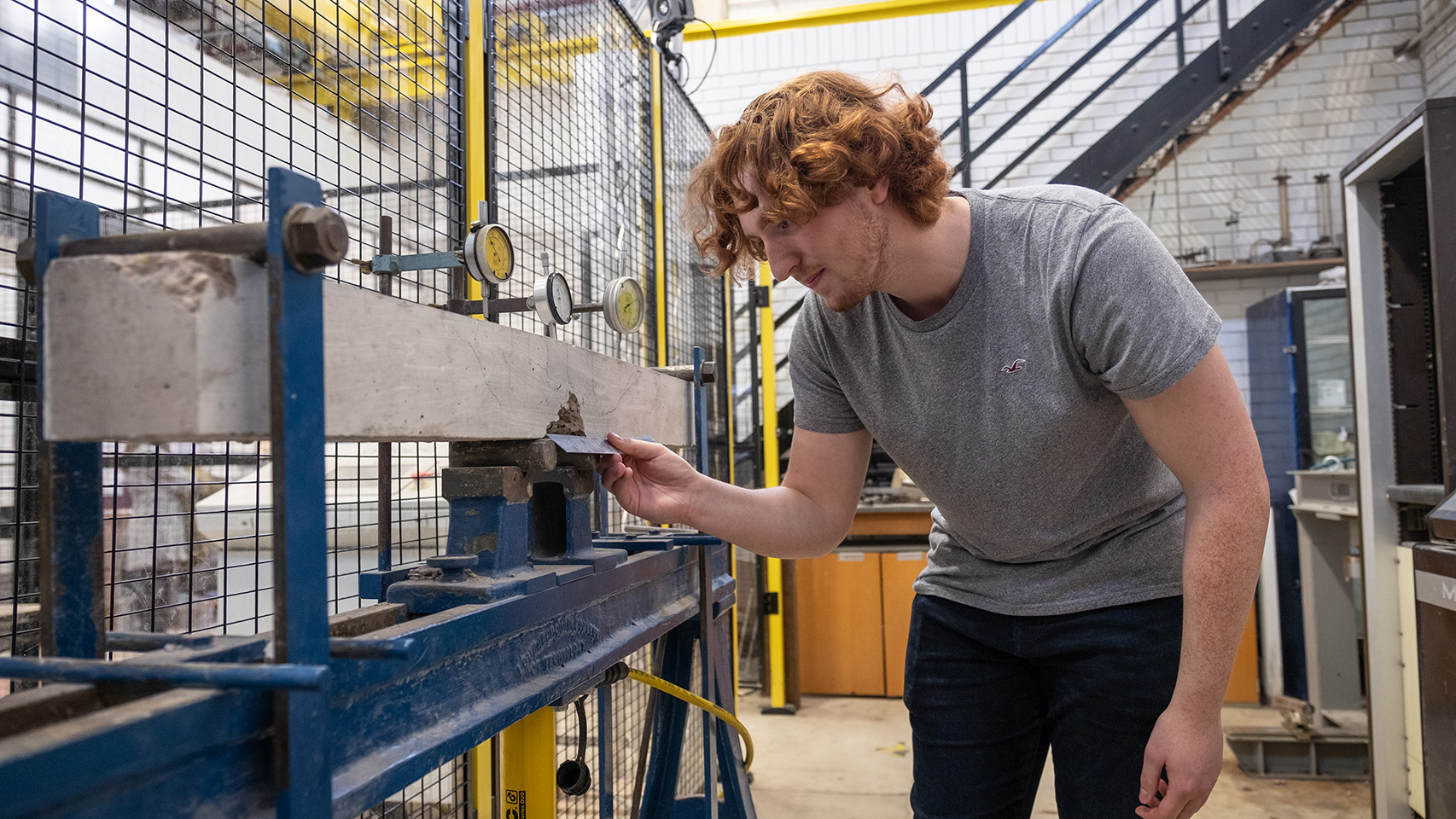 I want to use the engineering skills that I'm learning to influence the design of great sustainable buildings of the future. I'm looking forward to gaining hands-on practical experience within the industry and making contacts during my placement year.
I hope to transfer my course to an integrated master's degree (MEng Architectural Engineering), which will mean an extra year of study at Loughborough.
I am really enjoying the Architectural Engineering course and would tell anyone who enjoys design and engineering to consider it. The quality of teaching here is excellent, and the facilities are second to none. The modules are varied and really keep me interested. Loughborough is a fantastic place to study and I really feel like I am part of the Loughborough family community.