Emma Viggars
Course

Subject area
When deciding which university to choose, it was important to me that the university provided a lot of opportunities for me to gain industrial experience while I was studying. Having heard that Loughborough was one of the first universities to offer the industrial placement year during the degree, I felt that Loughborough would be able to provide the support I needed to be able to secure a placement.
Loughborough also offers the professional development project (PDP) as part of the Chemical Engineering degree, which is a third-year research project. Unlike with other universities, Loughborough provides the opportunity for students to conduct their PDP project abroad and/or with an industrial partner. Therefore, since being at Loughborough, I have been able to gain two different work experiences from both the industrial placement and PDP project, with two different organisations. This opportunity, which is unique to Loughborough, I believe will benefit me massively in my future outside of my studies.
My main reason for choosing Chemical Engineering at university is the wide range of career opportunities that are available. Comparing the career paths for my friends who are also on my course, these range from nuclear and car manufacturing to pharmaceutical, food engineering and finance. I believe this wide range of choices is good for people who want to study engineering, but still want the flexibility within their degree so that their career options post university are not limited. This wide variety of career paths is also reflected in the teaching here at Loughborough university which offers a large range of optional modules that provide an insight into many different career options.
What I love the most about my course is the wide range of content taught during the degree and the great level of teaching quality and facilities. The lecturers are keen and passionate about the content they teach and the facilities, such as the interactive Igloo which provides a 3D model of a power plant, and the extensive lab facilities in the department ensures that the theoretical study I conduct in lectures can be translated into practical work.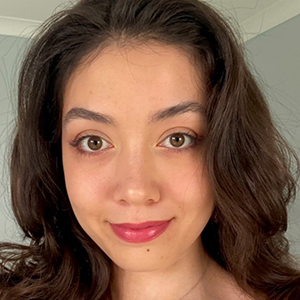 For my PDP project I was working with two companies, Atkins and SpinChem. Atkins is an engineering consultancy which I was working with for my industrial placement prior to the PDP project. From my placement year with Atkins, I was able to get involved with their Spinionic project which involves the Rotating Bed Reactor which was developed by SpinChem. I worked with people from both the Atkins and SpinChem side during this research project.
Liquid radioactive waste arises from nuclear power plant processes and this radioactive liquid waste is harmful and therefore needs to be treated to reduce the risk to humans and the environment. To reduce the radioactivity of the liquid waste and make it safe for disposal, the Rotating Bed Reactor (RBR) has been developed by SpinChem AB. However, this treatment of liquid waste results in solid secondary radioactive waste in the form of spent ion exchange media. This ion exchange media can't be further treated and therefore requires storage in a nuclear waste repository, which are controlled by nuclear waste management authorities. The authorities impose waste acceptance criteria that the solid waste must meet to be allowed to be disposed of in these facilities, to ensure that the solid waste will be disposed of safely.
Therefore, to ensure that the rotating bed reactor can be adopted as the treatment of radioactive liquid waste, the rotating bed reactor must prove it can meet the waste acceptance criteria. My project focused on determining whether the RBR can meet the acceptance criteria, specifically for the free liquid limit imposed which details the percentage of free liquid allowed to be present within the solid waste prior to disposal.
The PDP has taught me how to collaborate with multiple different people from different areas of a sector and how to conduct myself within a business setting. The PDP project has also taught me time management and personal responsibility.
Before starting my PDP, I had an interest in nuclear power and therefore it was important for me to try and find a PDP within that sector. The PDP has helped to further expand my interest in this sector and therefore nuclear is an area that I am keen to work in once I graduate.
My advice for people who wish to do their PDP outside of Loughborough is to plan ahead. Organising the PDP can take some time and therefore you want to be able to make sure you have the time needed to get over any hurdles you encounter. Using contacts from your industrial placements is a good way to find a PDP within industry as people may know other companies/professionals within the sector that may have something that interests you. However, the Department of Chemical Engineering still offers PDPs which focus on a wide range of topics.
For the PDP, the department provides us with a lot of information and lectures that we could attend to help us secure a PDP outside of the university. For me personally, my original plan was to do the PDP abroad and use laboratory facilities in another university. However due to the coronavirus pandemic I was unable to go abroad, I got in contact with my department, and they were able to provide me with laboratory space in Loughborough university so that I could continue my PDP that I had chosen to do. I was also given an academic supervisor within department to ensure I was fully supported during my PDP research project.
Besides my PDP, the greatest experience outside of my project has been my industrial placement year with Atkins. I worked in the nuclear and power sector and was able to work on major UK nuclear new build projects such as Sizewell C and small modular reactors (SMR).