Daniel Atkinson
Subject area
The high position in the rankings for the Chemistry department, and the specialised nature of the MPC course is what encouraged me to apply. I decided to come to Loughborough when attending an offer holder day, the campus was great in the sun and had a very homely feel, so I accepted the offer from Loughborough over the other universities.
I was interested in a Chemistry course and have always had an interest on the medical & pharmaceutical applications of chemistry so a course that gave me a wide base of Chemistry knowledge, while adding specialist knowledge relevant to drug development and similar areas was very interesting.
The specialised MPC modules have given me a great overview of the whole pharmaceutical development process, and aspects such as Pharmacokinetics, and the modes of action of drugs within the body. I find these parts of the course very interesting.
The quality of teaching and facilities are fantastic. STEM Lab is a great facility and being able to spend so much time in the labs throughout the degree is a great aspect of the course.
My favourite module was the Biological Chemistry module in 2nd year. There was a part of that module on neurological diseases which covered Parkinson's, Dementia, Huntington's Disease and Depression. Learning about the pathways within the brain, how these are impacted by the diseases, and how modern therapeutics look to alter these pathways was very different to content covered in a 'standard' Chemistry degree and was a fascinating look into some diseases that we are still trying to fully understand.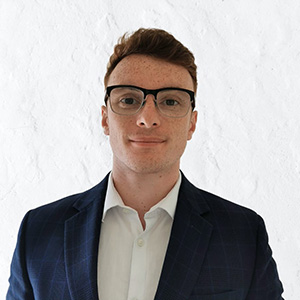 I have not needed any specialised support throughout my degree, but lecturers have always been very responsive and helpful. If there's an aspect of the course, I didn't understand they were always happy to have a conversation and do their best to explain and discuss the content in more depth to aid with understanding.
I did complete a placement year. I worked at Mackinnon Bruce International, an executive search firm where I recruited senior individuals, in one instance a Chief Operating Officer, for pharmaceutical companies. This gave me a view of the huge range of careers available to those with a background in the Sciences and allowed me to build connections in companies around the world, with my assignments covering the UK, USA, Switzerland, France, and South Korea. It also greatly developed my commercial awareness and sales skills and added to my CV which has been very helpful when searching for grad jobs.
I have secured an internship at HSBC for the summer in Markets & Securities Services, and I'm then moving on to my fulltime role on the Graduate Commercial Leadership Programme at Johnson Matthey. My aim is to build my experience in commercially impactful roles and build my career from there. My Loughborough degree will support this as Johnson Matthey work across a huge range of areas of sustainable science and my degree has covered many of these areas such as catalysis, battery technologies, and pharmaceutical development. This understanding will help me find my way in Johnson Matthey and contribute to the company. While I am not in a technical role, this technical understanding will help me to converse and work with my technical colleagues on projects that require a crossover of teams.
To anyone considering coming to Loughborough I would say go for it. If you have an interest in Chemistry but are looking for something with aspects of Biology and Pharmaceutical development, the course is the ideal crossover.
It's a very sociable atmosphere, particularly in halls where committees go to huge effort to make you feel at home and help you find friends with similar interests, be that through societies, charitable causes, or social and competitive sport.
Being a part of the Loughborough community, and spending 3 years getting involved in all aspects of student life on and off campus has been my favourite part of my experience.