Amy Bell
Course

Subject area
I chose to study at Loughborough because I felt a sense of community and social acceptance when I first visited the campus.
It's one of my favourite things about Loughborough – it is a very inclusive place and there are a range of opportunities available to all.
I decided to study my course because it gave me the opportunity to study aspects of both physical and human geography. These two areas explore in-depth contemporary issues, such as the effects of the changing climate on society. Studying this course also opens up a wide range of future employment opportunities.
I enjoy the flexibility that my course offers. The compulsory modules in first year contain a balance of human and physical geography, then there is an opportunity to specialise in either second or third year.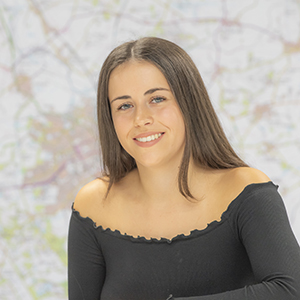 Although I have really enjoyed all of the modules that I have studied on my course, my favourite was the field trip to the Peak District in first year. This trip encompassed both physical and human geography methods and gave me the opportunity to meet many people on my course.
The teaching provided is of a very good standard as the lecturers are extremely passionate about their research areas. The lecturers also offer quality feedback and respond quickly to any queries that you may have. The teaching facilities are of an equally high standard and are very modern.
The University offers a lot of career support, in the form of departmental careers talks, career fairs, employer drop-ins and mock assessment centres. There is also the Careers Network which provides one-to-one appointments to discuss career opportunities and offer application advice.
The success stories of Loughborough graduates have inspired me to aim high, try my best and to never give up. I would say to anyone thinking of coming to Loughborough, don't be scared to get involved in activities when you first start at Loughborough. This is one of the best ways to make friends with people who are in the same situation as you.