Before I joined Loughborough for my postgraduate studies, I studied BA (Hons) Industrial Design and Technology, also at Loughborough University, for four years. I have been at Loughborough for a very long time!
Within my programme, I enjoy the sheer variability of modules and their industry connections the most. I have completed modules with Sainsbury's and O2, to smaller social innovation projects with the local Loughborough community. I also enjoy the diversity of student backgrounds studying MA User Experience Design. We have students that have experience in design, psychology, and that have come from employment. This provides fresh perspectives and this, I believe, teaches me to learn to work well in cross-disciplinary groups, something widely implemented in industry.
As a postgraduate student, I feel as though I have a closer connection to industry than ever before. The majority of my modules have had some level of industry engagement. This allows me to not only develop client-based interaction skills, but also provides opportunities to create links with companies that could lead to potential future employment.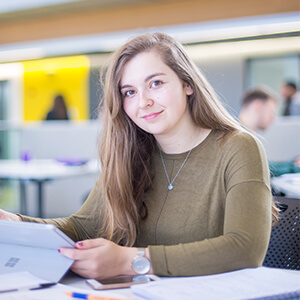 A normal day for myself would typically include engaging in seminar-style lectures, which creates a great hands-on learning experience. Next, in my own time, I would arrange group meetings for creative sessions depending on the stage of the design process we were at. This may include meeting with clients, interviewing and co-designing with target users, or analysing data collected from earlier research. Either way, as a UX postgraduate designer, you are always guaranteed to use post-it notes in your day!
I have supplemented my master's year by participating in the famous hall life at Loughborough, by competing in Hall Sport (IMS) events and taking a leadership role as the RAG (charity work) and Stash (designing hall clothing) rep of John Phillips Hall. This was special as we won Hall Committee of the Year, the first time ever that a postgraduate hall has won in Loughborough's history!
I decided to study my MA as although it was offered as a module in my undergraduate, User Experience Design was an industry that I wanted to explore further. For me, I wanted to feel well-equipped with the specific skills to become an excellent UX designer, before considering a job in the field.
In five years' time, I would like to be established as a UX Designer/Researcher within an in-house design team or design consultancy. I am very keen to utilise my product design skills learnt in undergraduate and combine them with the UX skills I have learnt this year.
For students considering postgraduate study, I would say it's important to have a good work-life balance, particularly as a postgraduate! Get involved with as many areas within the University as you can, so you can say that you got the whole Loughborough student experience! A year of study goes fast!