Michaela
Current student
Subject area
Before I started my master's course at Loughborough, I had just finished my undergraduate degree at Loughborough also, studying BSc Economics. I chose Loughborough University because it offered the best of both worlds. Firstly, it was clear that Loughborough University had a prestigious reputation and was well known for its high-quality teaching. Secondly, I knew that Loughborough University had a variety of societies and had won best student experience on numerous occasions.
I have mostly enjoyed the teaching style and independent learning aspect of my programme. I love that our lectures are very engaging, and that our lecturers motivate us to develop our own understanding and critical thinking skills (avoiding a spoon-fed teaching style). This has definitely helped me to provide mature evaluations when critiquing various literature/data.
I would say the key differences between undergraduate study and postgraduate study is the workload and the amount of extra reading that is required. At postgraduate level it is paramount to read around your topic and to have a general good understanding of different researchers' perspectives. Though this is also useful at Undergraduate level, it is definitely more essential for a postgraduate degree.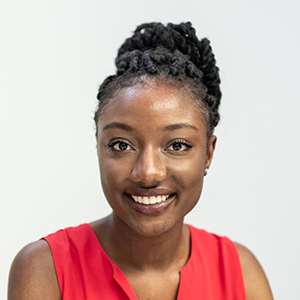 The normal day in the life of a postgraduate student would entail, attending a few lectures in the day (one or two at most), then heading to the library to get some books for the required reading. During the day, I also usually read up on lecture notes to ensure everything is understood and I catch up on some coursework or any work that is required for upcoming lectures in the week. At the end of the day, I go home to watch a good movie or to relax with some friends.
Away from my studies, I enjoy writing scripts and putting on performances. During the academic year, I directed a Christmas and Easter play and I took part in a dance movie, which involved performing a routine in Loughborough town centre. I was also actively involved in a Christian society, where I was a women's fellowship leader. Furthermore, in my free time I like watching YouTube videos or watching movies (I do like a good romcom!)
In five years', time, I see that I would have completed my ACA qualification with the National Audit Office and would have qualified as a chartered accountant. As my graduate job is closely linked to politics and finance, I think that I will continue to read around international relations and other topics that have been prominent in my master's degree.
If I could give one piece of advice to a future student, I would tell them to always start their work as soon as they receive it. The workload for a master's degree is quite a lot and it can pile up really easily, so they should try and get as much work out of the way when they have the time. It will help them not get too stressed and will mean that they will have more time to relax and complete future assignments.