Megan
Current student
Course

Subject area
Choosing to study a master's at Loughborough was an easy decision. As the number one university in the world for both academic sport and sports participation, I would highly recommend studying your Secondary PE PGCE here.
Sport has always been my passion and I was excited to study and teach it at a PGCE level. When I researched the course, lecturers, and opportunities offered here, I thought they looked incredible and far beyond any other university.
Being at Loughborough University has easily been the best 4 years of my life. The university is excellent at making learning relevant to students and providing practise opportunities due to the amazing facilities, top lectures, resources and placements available. I've developed my knowledge, learnt so much and had the best experiences on my course. It's been amazing to meet so many people with similar interests.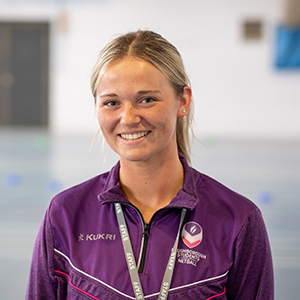 Every lecturer at Loughborough is exceptionally knowledgeable and approachable, so all explanations are clear and questions comfortably answered. Lots of lecturers had released their own literature, completed research themselves or had several years first-hand experience in the field, which was extremely helpful and allowed me to utilise their knowledge and expertise.
I had an exceptional undergraduate experience at Loughborough and knew that the PGCE course here is famous for lecturer expertise and how it projects students in the future. I found the transition from UG to PG study comfortable and there was lots of support to help with areas I found tricky.
To help my transition into the PGCE course, I also worked a Saturday job at a local School to increase my confidence teaching and leading. It felt amazing to inspire students and watch their enjoyment grow for the sport – I even ended up winning the league with my team!
Outside of academia, the opportunities available across the University in a range of areas are brilliant, and there are numerous things to get involved with. One of the reasons Loughborough particularly appealed to me is because it's the base for England Netball and home of Lightning Academy.
My proudest sporting moment has been getting into Lightning Netball Superleague team and training and playing with the franchise throughout the year - being able to play regular games, take part in cup finals, and travel to other universities has been great. I have also met the best group of girls, which has made my experience at Loughborough unforgettable, they're truly friends for life.
Following graduation from my PGCE course I am hoping to teach internationally, specifically in Australia. It will be amazing to gain some experience teaching in a different culture with some new sports, whilst also allowing me to travel before returning to teach in England.