Livia
Current student
Course

Subject area
After completing modules on terrorism, war, and militarism in the final year of my undergraduate studies, I became really interested in the dimensions of international security.
I knew that I wanted to specialise my knowledge in this particular area and continuing my studies as a postgraduate was the best way to do this.
You are expected to take responsibility for your own learning and work independently a lot more than you would as an undergraduate. Even though this can feel daunting at first, you will find that you adjust to this type of learning quickly! I have also found that there is a lot more to read and prepare before lectures as a postgraduate student, but this is really beneficial because you can engage with lecture material better and contribute to discussions more.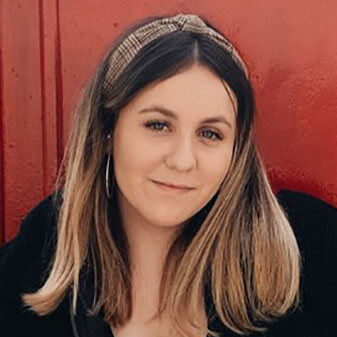 I hope that specialising in security will allow me to gain employment in policymaking and defence in the public or private sector. I am also really interested in peacebuilding and post-conflict reconstruction and would be interested in working abroad for an NGO in the international development sector in the future.
I found researching and creating a policy brief on the impact of anti-personnel landmines on human security really interesting. Landmines cannot distinguish between civilian and combatant targets. Due to this, civilians, deminers, and aid workers are all disproportionately killed and injured by landmines. Bans and restrictions on their use in war is an international policy concern!
This year I managed to gain employment as a Student Ambassador. This is a really flexible and enjoyable role to have alongside my degree that allows me to put my knowledge of Loughborough to good use.
I have also taken advantage of the volunteering opportunities that Loughborough offers. I currently sit on the Democracy and Representation Committee within the Students' Union, where I have gained practical experience in policy and governance alongside my degree. I am also the Chair of the Elections Committee, where I help ensure the democratic running of campus-wide elections. Voluntary positions like this have been a great way for me to meet new people, expand my skills and make myself more employable!