Kerrie
Current student
Subject area
I have loved science, ever since I was a teenager, but life and children meant I had to wait to follow my dreams. I always knew I was going to do a PhD and when I went back to college in my early 20's I found a love for chemistry which has been my driving force and still is. I feel very lucky to be able to continue my education in this area.
When I was looking for a PhD, I was thrilled that Loughborough had a project available which aligned with my interests. Loughborough University has an amazing reputation and when I came for my interview I felt instantly at home and got on with my supervisor really well. I just knew that Loughborough was a great fit for me!
My project is part of the Centre for Renewable Energy Systems Technology (CREST)'s research. I am looking at thin-film cadmium telluride solar cells. I'm trying to enhance the efficiency by improving the deposition methods of the individual layers and improving the electronic structure by doping and diffusing other materials into the films.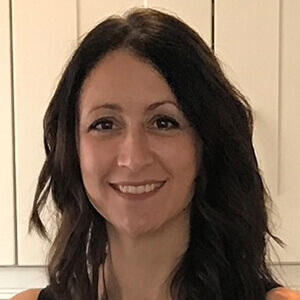 I feel totally responsible for my own work, very independent and that I can try out all the ideas I have. I love working in the labs and having the freedom to give things a go! I also have a great group of colleagues around me and can turn to any of them if I need help; we really have an "all in this together" approach to our work.
On a typical day, I try to get into the office early, grab a coffee and double check what I've planned in the lab for the day. Then it is off to the labs to get any experiments on the go. For an entire solar cell it usually takes two or three days due to time or getting on the equipment I need, so I have a rolling schedule where I'm making a few devices at different stages during each day. I have to be super organised and write everything down to keep it all in order. If I'm working on reports, I can sometimes work from home, so I set myself up in a cosy corner and get all the admin done.
Within the next five years, I would like to continue my work in sustainable chemistry so if I'm not still at Loughborough University as a research assistant, then I would like to be working in research in a company that is focused on green energy.
If anyone is considering whether or not to do a PhD, I would say just go for it! It will be hard but so rewarding to feel that you are contributing to something in a field that you enjoy. Don't be scared to ask questions and don't be scared to fail, how else will you learn what doesn't work!