Josh
Current student
Course

Subject area
I was motivated to continue my studies at postgraduate level at Loughborough to help develop my academic and research skills, as well as to dive deeper on a specific element of Politics and International Relations – Security – which I find fascinating!
After graduating I hope to work in research and policy development to help keep the UK secure from both internal and external threats.
Postgraduate study is, of course, a step up from undergraduate level – but the course staff are always there to help, and often build upon knowledge gained at undergraduate level step-by-step. Expectations on reading and further research are higher at this level, but the workload is manageable and helps to intellectually challenge you!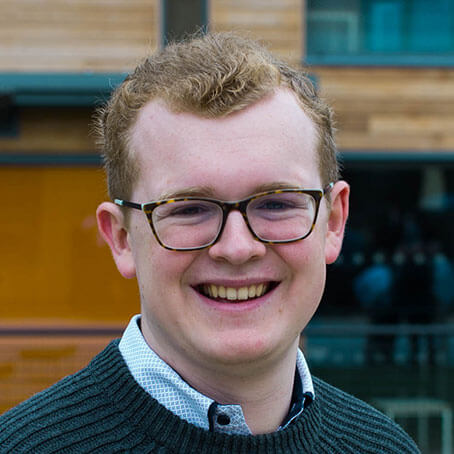 The Security in Global Politics module has been my favourite topic so far, due to its broad scope and the wide variety of lecturers who take part – each talking to you about their specialist field! In the module, the lecture on Hybrid Warfare was the most interesting to me, demonstrating the wide-ranging security implications of a strategy that blends both conventional and political warfare.
The lecturers and tutors on the course have been fantastic! Each of them has a real passion for their specialism and are always on hand to help with whatever questions or queries you might have. Having a dedicated dissertation tutor is also great, as this allows you to work one-to-one with a staff member to help improve and hone your ideas.
Typically, I'll have around 8-10 hours of lectures and seminars a week, each of which will have a varying amount of required reading to help build your knowledge of that week's topic. Much of the week will therefore be focused on preparing for these lectures and the coursework that comes with them. There are also opportunities to attend additional guest lectures with academics and specialists in the field, which are great to broaden your horizons and gain a better understanding of the course!
Outside of my studies I have been involved in the Students' Union, which has given me many additional opportunities to add to my Loughborough experience – including LSU Media, which has allowed me to gain skills in journalism, TV production and radio, and the Democracy and Representation Committee, which helps hold the Union Executive to account.
I'm also the Postgraduate School President for Social Sciences and Humanities, where I represent the views of students and their representatives to senior staff in the School, improving the experience for students!