Jennifer
Current student
Subject area
Since graduating from my undergraduate degree, I'd become interested in environmental issues, particularly in conservation and restoration. I'd been volunteering with environmental charities such as the Wildlife Trust and found myself more and more engaged in this area, so wanted to understand whether I could get into a career in it. The range of areas covered on the programme really appealed to me both in terms of my interest and in their ability to enhance my employability. It covers practical skills, such as those needed for river management, alongside software skills in areas such as GIS and geospatial modelling. This has given me a broad understanding of the environmental sector and the range of opportunities within it.
I graduated from my undergraduate degree in BA English in 2016. After graduating, I worked in marketing for a few years and then wanted a change so moved into a role as a Restaurant Manager while I looked into career change opportunities. Having had a break between my studies, I had commitments that meant I needed to work whilst studying, so I chose to study part-time across two years. I was able to find work in the marketing department at the University that fitted in with my studies. I've found the skills gained from taking time out to work to be really useful in my studies, such as presenting, interpreting data and report-writing. I've also found there are plenty of transferable skills from my undergraduate study, even though it's in a different area to my MSc.
I wanted to stay local to the midlands and Loughborough's overall league table rankings and reputation for the subject made it my top choice of the universities I considered. When I looked into the course content, Loughborough offered an interesting programme that combined scientific and practical skills.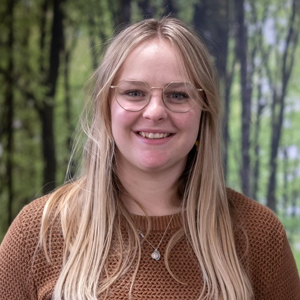 I was always drawn to Loughborough being a campus university – I came to visit before I joined and I loved how everything was in one place and how close I was to green spaces. As an environmental student, having the green spaces, forested area, and things like the weather station on site make it a great place to study, particularly when doing practical projects.
The course is small and there's a lot of workshop-style teaching, so you get the opportunity to be hands-on and get a practical understanding of the areas studied. The smaller size means I've got to know the academics on the course, who have been supportive in my studies and really helped my understanding in their areas.
The geography department itself has some really good facilities, including dedicated lab spaces which I've used during my time here. Having access to Graduate House as a postgraduate student has also been useful for me at times when the rest of campus is busy and I need a quiet space to work.
From my MSc, I've gained knowledge of specialist software needed in a range of environmental jobs, such as GIS, SPSS and RStudio. My course has also given me a range of skills beyond specialist environmental knowledge. There's a lot of data analysis involved in the programme, and I've learned how to handle and interpret large datasets which has allowed me to get a role as a Market Insight Officer here at the University during my second year of studying.
One of the most useful things I did was chat to academics to get a feel for the course content before I started. Postgraduate can be a step up anyway, but I was worried about transitioning from a BA to an MSc. Speaking with the academic staff gave me an understanding of the course content and left me feeling excited rather than worried.
I'm sad that I'll soon be finishing my course – even though I've been doing it for 2 years rather than the standard 1 year for full time students, it still doesn't feel long enough. In terms of what comes next for me, I'm still passionate about restoration – the driver behind me starting the course in the first place – so I'd love to work on that more in the future in some form.