Ellen
Current student
Course

Subject area
I studied my undergraduate here and really enjoyed the atmosphere and the community feeling at Loughborough, so I felt at home and wanted to stay. Also, the course had a wider approach to security that incorporated human security compared to other courses that I researched into. I studied undergraduate history at Loughborough from 2018-2021.
I have career aspirations to work within the sphere of security and international relations. When applying for jobs during my final year of undergraduate study I noticed many preferred master's degrees, therefore, to progress in a career I chose to do the International Security MA. The teaching is excellent at Loughborough, many lecturers are willing to help at any time, whether that be by email or an in-person meeting if you have queries relating to work or personal life.
Excellent communication with my personal tutors at undergraduate and postgraduate level/ other lecturers always willing to help. Furthermore, I have used the CV support at Loughborough to further my chances of getting a job which I have been successful in doing. Lastly, I have used to housing specialist help in second year to look over my house contracts before signing to make sure they were fair.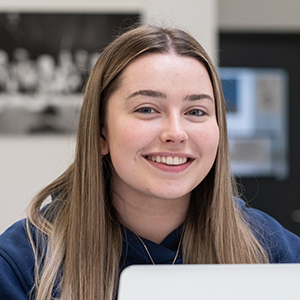 A typical day in the life would normally consist of breakfast, and Hollywell gym some days, going onto campus for a lecture or two, then spending some time in the library depending on deadlines, however, there is also plenty of time for social activities like seeing friends and going out.
I have secured a job at the Royal British Legion as 'Research Officer' supporting programmes for veterans and the armed forces. My master's degree undeniably helped me achieve this position by not only giving me the skills and understanding needed for this job, but also providing me with the opportunity to apply for an internship at the APPG for Drones and Modern Conflict. After completing 8 successful months at the internship alongside my master's, both experiences helped me secure a job in policy that I was seeking and hope to develop a career out of after the course ends.
The greatest skill I have developed from the Security MA would be how to write a fully comprehensive and effective policy brief. Many course-works consist of this layout which was extremely helpful as several of the jobs I applied for were policy and research roles where this type of work was mandatory. Furthermore, the MA has helped to successfully develop my time management skills with study, internship, job applications and social time to balance.
My advice to future students would be to apply without hesitation. The MA Security course is great, with fantastic lecturers and a chance to network and gain connections in a field where there are so many interesting employment opportunities.
The social atmosphere on campus is one of the best things about Loughborough. There is a feeling of everyone knowing everyone and it's a great place to make friends. I have been part of Loughborough GAA girls' team in my masters year and was also a Peer Learning Facilitator in my second year of undergraduate.