Camren
Alumnus
Subject area
Loughborough University is well known for its exceptional standard in sport, having been ranked number 1 in the world for sport-related subjects for the last 7 years*. Without a doubt it was an easy choice to pick Loughborough when thinking about my future career in sport.
The variety of learning provided on the programme from experts in the field, along with access to top class equipment and software really stood out.
The University's strong connections with the sports industry was also a reason I choose Loughborough. It was these connections which helped me to secure a brilliant placement opportunity, facilitated networking, and open-up potential job opportunities after graduation.
Since graduating, I have started work as an academy performance analyst (U9-U14) with Leicester City Football Club. My role includes: organising footage of all training and matches; tracking individual and team performance; creating analysis and delivering live feedback from a team and individual perspective; and mentoring interns to help support analysis provision.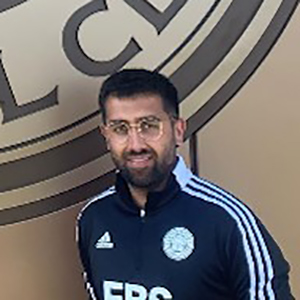 Having access to an unbelievable placement opportunity at Leicester City Football Club probably played the biggest part in securing my full-time role, as I managed to secure a job at the club.
A real highlight of the placement was working with highly trained coaches and analysts. Providing support for Premier League 2, Premier League U18 and Premier League Cup fixtures really allowed me to build up a detailed tactical and technical grasp of football.
Developing a knowledge and understanding of the analysis workflows implemented at a top academy was very beneficial. It gave me great exposure to learn more about pre-match, post-match and live analysis, specifically individual player development.
These are all things that have really benefited me moving into full-time employment.
The programme also offered a huge variety of learning, which developed all parts of my analysis understanding. Learning from people that have spent years within the industry was a massive help throughout my time at Loughborough University.
Staff on the course provided unbelievable support throughout the year with not only their advice and experience, but their willingness to always go above and beyond by providing extra workshops on request.
The data visualisation module was a real highlight as it offered in depth teaching of Tableau software and gave a real knowledge and understanding of creating visualisations. The ability to be surrounded by other aspiring analysts and bounce ideas off each other on a weekly basis was also a real benefit.
It is evident the programme has been meticulously planned and thought-out to provide the best possible pathway for aspiring analysts. If you are willing to work hard, this course provides an unbelievable opportunity to achieve success within the analysis field.