Abdi
Alumnus, International student
Subject area
I joined the Ebola Front Line Humanitarian Aid workers at Sierra Leone in 2015, where I serviced in the Water, Sanitation and Hygiene (WASH) sector with two Water Engineering and Development Centre (WEDC) alumni from Loughborough University. I got incredibly motivated and inspired by the stories they shared of their time at Loughborough, and I immediately decided to initiate my application to the University.
Receiving a degree from Loughborough University has greatly boosted my confidence in making positive changes in the humanitarian sector. I feel greatly enriched with valuable knowledge and skills that can positively impact societies that are in precarious need for humanitarian assistance.
My career progression has significantly improved since starting my degree. As I study part-time, I have been able to secure roles as a WASH Manager, Specialist, Coordinator and Technical Referent in various countries in Africa, such as Sierra Leone, Kenya, South Sudan and Somalia. I have worked with various INGOs, such as Goal Ireland, MSF, the MENTOR Initiative and UNICEF.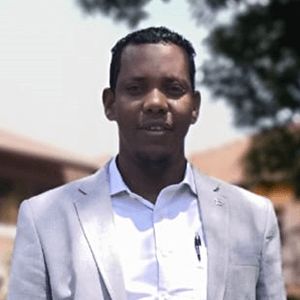 One of my greatest and most important achievements is the level of technical confidence I have gained. The programme has opened up many incredible career opportunities for me that otherwise would not have been possible.
Throughout my studies, I have been involved in various projects implemented by different organisations across the world. Some of the projects include Ebola response in West Africa, Cholera response in Kenya, and Rural Sanitation projects in South Sudan. I was also able to lead a Community Led Total Sanitation (CLTS) project in South Sudan that was part of a globally funded Department of International Development (DFID) project, which was a huge part of my MSc research dissertation. I also recently participated in the development of Standard Operating Procedures (SOPs) related to hygiene and sanitation in response to COVID-19 interventions in Somalia.
As a part-time distance learner, I thought it would be challenging to balance work, family and studies. However, Loughborough has made it incredibly manageable and enjoyable, from personal guidance to online learning tools.
The lecturers' commitment to offering distance learning students the necessary academic guidance and flexibility has been fantastic, and I don't think any other university can compete with Loughborough in this aspect. It has truly helped boost my morale and encouraged me to keep going and do my best throughout all my projects at the University.
*Formerly named Water and Environmental Management