Aakash
Alumnus, International student
Subject area
Before starting my PhD, I was working with CSIR-Central Electronics Engineering Research Institute (CEERI, Pilani) back in India as a Project Associate.
I decided to apply to Loughborough because the facilities provided by the University, support from the prospective supervisors and different student support services that ensure a good student experience all influenced me to apply when I was researching where to study. I didn't attend any events - my research was totally online. The reviews for the universities on different portals such as the Complete University Guide and the QS Rankings were most helpful in making my decision. Additionally, the availability of people from Loughborough Students' Union to talk to, especially the doctoral student representative from Wolfson School, was the biggest help in understanding the University better.
My research aims to meet the increasing demand for faster data-rates and reliable connectivity for everyone, everywhere. To support new technologies such as the Internet of Things, millimetre waves have been identified as a suitable spectrum for developing fifth-generation technology. New types of antennas are needed that can dynamically focus the radiation in particular directions to minimise losses and interference.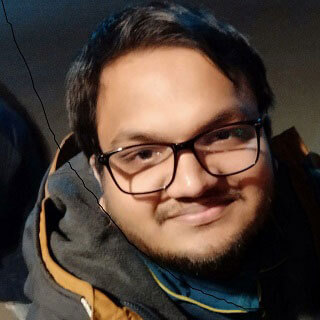 Traditionally, complex phase shifters feeding antenna arrays are used to beamform radiation patterns in different directions. These can be cumbersome and are not ideal for small installations. This work is looking into developing cheaper and more compact active antenna array systems for electronic beam-steering at 28GHz.
I chose my area of research as during my undergraduate days, it started to fascinate me how small pieces of conducting materials (antennas) have been able to connect the whole world wirelessly, and investigating the same, reading more about it made me want to explore the area more and more.
As a PhD student, a normal day for me starts with a good cup of coffee on my desk, going through the mail and reviewing the previous day's work. Further, I spend the day continuing the work planned for the day (either reading, simulating, experimenting or writing).
After lunch with a couple of my colleagues, I go through the latest happenings in my area of research, along with a quick look at the latest world news. The day is planned on the basis of any meetings and other assigned duties. The evening hours are spent on my volunteer work with STEM Action at Loughborough Students' Union and finally, the day at the office ends with writing down a prospective plan for the next day.
During my time at Loughborough so far, I have found a calendar is the best tool to handle day-to-day activities along with studying. It is not necessary that you define specific hours for your studies in between your day-to-day activities. For me, it is the other way around. Along with my studies, I plan my day-to-day activities to be done in a set time-frame. It is important to prioritise tasks and plan your work accordingly.
The tuition fee for my PhD is funded by the University, and I support my living expenses through my Student Ambassador role with the International Office and Research Associate roles within the department.
I have found that a PhD here doesn't involve coursework and feels more like you are working in an organisation where you have taken up a project and you have to plan your complete PhD programme with the support of your supervisors.
It gives you a much better experience in research and lets you explore outside the limits; hence, helping me grow. This is different to the studying I have done before. You don't have to be a total expert in the area to start a PhD. All you need is a good idea to work on, innovative thinking and a problem-solving approach, with a little patience for reading. If you read as much as you can, this will help too.
Loughborough is helping me to achieve my goals, through the productive discussions with my supervisor, emotional support from colleagues and friends around the campus, and an infinite pool of resources from professional to personal support. Be it through the research group, department, library, Doctoral College or Students' Union, Loughborough University has provided all forms of support that I have been looking for.
As a result of this, I can say that the peaceful and pleasant environment, combined with the constant support offered by the staff members for students, are my favourite things about studying in Loughborough. I look forward to continuing to work in academia and contributing to the development of science and technology with my work, as this is the path I can see my career taking.