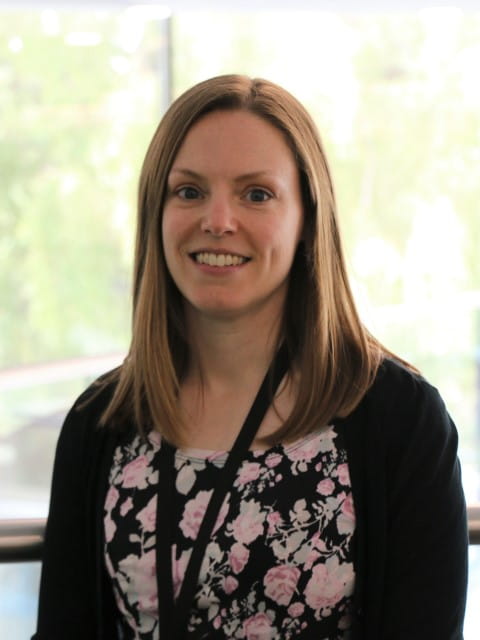 Please call the press office on 01509 223491 to arrange an interview with Dr Jennie Hancox. Bookings can also be made online at globelynx.com.
Jennie studied BSc Psychology at Loughborough University, graduating in 2009. She went on to gain an MSc in Dance Science from the University of Wolverhampton (2010) and a PhD from the University of Birmingham (2014). Her PhD research explored the social-environmental determinants of motivation and well-being in dance contexts.
Jennie undertook various postdoctoral research positions including Research Associate in the Health Psychology and Behavioural Medicine group at Curtin University, Australia (2014-2015), Research Fellow within the School of Psychology at De Montfort University (2015-2016) and Research Fellow within the School of Medicine at the University of Nottingham (2016-2018). Jennie was appointed as Lecturer on the BSc Sport and Exercise Science programme at the University of Nottingham in 2018.
In July 2022, Jennie returned to Loughborough to take up the post of Lecturer within the School of Sport, Exercise and Health Sciences and will be contributing to modules within Psychology.
Jennie's research focuses on developing behavioural change interventions for the promotion and maintenance of physical health and psychological well-being. More specifically, Jennie is interested in advancing understanding of the motivational processes that drive behaviour and how we can most effectively support uptake and adherence to health behaviours. Jennie has particular expertise in the application of theories of motivation in various contexts (e.g., exercise, dance and health) and the role of significant others (e.g., fitness instructors, teachers, and health professionals) in motivating those they interact with.
Fellow of the Higher Education Academy (2020-present).

Peer reviewer for journals (e.g., International Journal of Sport Psychology, Psychology of Sport and Exercise, Qualitative Research in Sport, Exercise and Health, Psychology and Health, Age and Aging, European Journal of Sports Science, European Physical Education Review, and the International Journal of Dance Medicine and Science).
Featured publications
Ntoumanis, N., Ng, J. Y., Prestwich, A., Quested, E., Hancox, J. E., Thøgersen-Ntoumani, C., ... & Williams, G. C. (2020). A Meta-Analysis of Self-Determination Theory-Informed Intervention Studies in the Health Domain: Effects on Motivation, Health Behavior, Physical, and Psychological Health. Health Psychology Review, doi:10.1080/17437199.2020.1718529
Hancox, J. E., van der Wardt, V., Pollock, K., Booth, V., Vedhara, K., & Harwood, R. H. (2019). Factors influencing adherence to home-based strength and balance exercises among older adults with mild cognitive impairment and early dementia: Promoting Activity, Independence and Stability in Early Dementia (PrAISED). PLOS ONE. 14(5):e0217387. doi:10.1371/journal.pone.0217387
Hancox, J. E., Van der Wardt, V., Pollock, K., Vedhara, K., & Harwood, R. (2018). Barriers and facilitators to adherence in an exercise and activity programme among older adults with mild cognitive impairment and early dementia. Journal of Frailty, Sarcopenia and Falls, 3(1), p.35-55. doi:10.1186%2Fs11556-018-0200-3
Hancox, J. E., Quested, E., Ntoumanis, N., & Thøgersen-Ntoumani, C. (2018). Putting self-determination theory into practice: application of adaptive motivational principles in the exercise domain. Qualitative Research in Sport, Exercise and Health, 10(1), 75-91. doi:10.1080/2159676X.2017.1354059
Hancox, J. E., Thøgersen-Ntoumani, C., Quested, E., & Ntoumanis, N. (2017). Feasibility of training group exercise class instructors to adopt a motivationally adaptive communication style. International Journal of Sport Psychology, 10, 3.
Quested, E., Ntoumanis, N., Thøgersen-Ntoumani, C., Hagger, M. and Hancox, J. (2017). Evaluating quality of implementation in physical activity interventions based on theories of motivation: current challenges and future directions. International Review of Sport and Exercise Psychology, 10(1), 252-269. doi:10.1080/1750984X.2016.1217342
Hancox, J. E., Quested, E., Duda, J. L., & Ntoumanis, N. (2016). Teacher-created social environment, basic psychological needs, and dancers' affective states during class: A diary study. Personality and Individual Differences. doi:10.1016/j.paid.2016.03.033
Ntoumanis, N., Thøgersen-Ntoumani, C., Quested, E. and Hancox, J. (2016). The effects of training group exercise class instructors to adopt a motivationally adaptive communication style. Scandinavian Journal of Medicine and Science in Sports. doi:10.1111/sms.12713
Hancox, J. E., Ntoumanis, N., Quested, E., & Thøgersen-Ntoumani, C. (2015). An intervention to train group exercise class instructors to adopt a motivationally adaptive communication style: a quasi-experimental study protocol. Health Psychology and Behavioral Medicine, 3(1), 190-203. doi:10.1080/21642850.2015.1074075
Featured Book Chapters
Quested, E., Kritz, M., Hancox, J. E., Ntoumanis, N., & Thøgersen-Ntoumani, C. (2021). Promoting self-determined motivation for physical activity: From theory to intervention work. In Z. Zenko & L. Jones (Eds.), Essentials of exercise and sport psychology: An open access textbook (pp. 37–61). Society for Transparency, Openness, and Replication in Kinesiology. doi: 10.51224/B1000
Hancox, J. E., Ntoumanis, N., Thøgersen-Ntoumani, C., & Quested, E. (2015). Self-determination theory. In J. MiddelKamp (Ed.), EuropeActive's Essentials of motivation and behaviour change for fitness, health and sport professionals (pp. 68-84). Nijmegen: BlackBoxPublishers