Interdisciplinary Science Centre from Laboratory to Fabrication (Lab2Fab)
Launched in 2018, the Lab2Fab Centre provides a collaborative environment making fundamental science more accessible to support other disciplines and opening up new avenues for funding and routes to impact. Refurbished joint facilities including chemistry, biosciences, physics and manufacturing are the foci for the Centre, with other members also being housed in materials, sports and exercise, and design.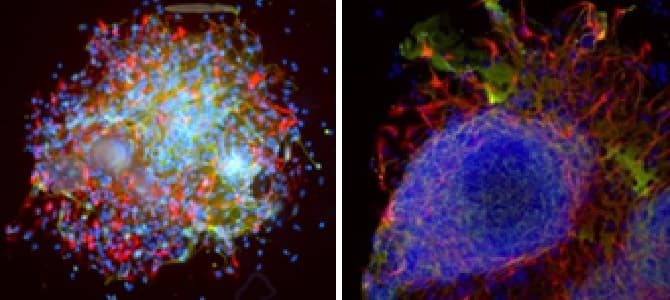 Our vision is to drive the development and enable translation of underpinning physical and biosciences from concept to application, and from laboratory to fabrication (Lab2Fab). We aim to achieve this by utilising advanced technologies to address fundamental scientific problems and foster collaboration across multiple disciplines.
The Centre is organised into three main themes building on key strengths and capabilities:
'Biology-on-a-chip' devices, including design (fluidic and biological modelling), fabrication methods and processing, biological characterisation, computational and mathematical analysis of large data sets acquired and systems modelling approaches
'Chemical reactors', with underpinning chemical processing being aided by design (theoretical optimisation informing CAD), additive and lithographic fabrication tools for device preparation and incorporation of feedback control systems
'Nano-materials and devices' focusing on areas of molecular and materials synthesis and characterisation.
Expertise and infrastructure
Academic staff, researchers and students associated with the Centre are engaged in a range of research projects aimed at the development of three research themes:
Biology-on-a-chip
Chemical reactors
Nano-materials and devices
We have world-leading expertise, instrumentation and methodologies within the areas of:
microfluidics design and fabrication
3D printing
cell culture
tissue engineering
biological material/particle interactions
molecular and nanomaterial synthesis
molecular and materials characterisation
nanoparticle characterisation technologies
chemical flow reactors
chemometrics
The techniques and procedures developed are applied to solving problems in a variety of fields including biomedical, clinical, materials, pharmaceutical science and chemical process development.
dynamic light scattering
resistive pulse sensors
photolithography
additive manufacturing
cell culture
time-lapse cell imaging
chromatography: GC, HPLC, UV/Vis, FTIR microscopy
X-ray diffraction: single crystal structure determination, powder diffraction (two wavelengths)
experimental design
data processing and data modelling