Millie Barrow
Alumna
Course
I chose to study the Fine Art course at Loughborough because the facilities and workshop accommodation were outstanding compared to other Universities. You are guaranteed your own space no matter what year you are in, and that forms a truly empowering studio community.
The facilities allow you total freedom, you can go in with questions and you will always find a tutor or technical tutor who is there with the answer – no idea is ever classified as silly, a challenge is what the technicians like.
Studying the Fine Art course helped me find my voice as an artist and as a woman in this society. The studios are there to challenge your ideas, to push you as a person and help you discover what it is you truly want to express. I came into the studios as a naive art student who just liked drawing as a hobby, and I have left a textile-based feminist artist who seeks to empower and educate others through her art, all whilst empowering myself.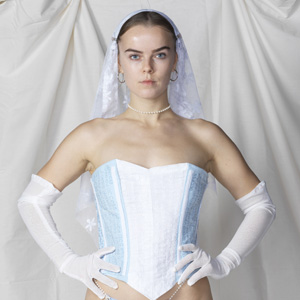 My advice to anyone considering studying the Fine Art course is to be patient with yourself and your practice. You cannot expect to 'find your niche' in the first year and you cannot expect to always love your work. Every artist has their bad days, and every artist has those dream-like moments – it's key to reflect on your personal growth and development of your practice throughout your whole career, and that's exactly why the tutors are there.
The nature of being an artist is that your work can touch on very personal subject matters, and the Tutors and Student Services helped me find my voice and mode of expression with dealing with my own. Not only did they support me and my own well-being, but in doing this they have shown me I can freely express my voice through the arts, and it has led me to where I am today.
I applied to the Artists' Benevolent Fund because it was an opportunity every art student could only dream of getting their hands on to help introduce you into the artworld beyond the studios with support. For me, the key thing that grabbed my attention was the idea that I could have one more year in the thriving community of the studios, one more year to teach myself new skills in textiles with tutor support and one more year to make the most of the Student Services and to work on my mental health. It was an opportunity that appeared to not only support me in becoming an artist, but also one that would support my growth outside the studios and in my own well-being.
From this experience I hope to lay the foundations in being a self-sufficient artist. To learn the realities of what life is like in supporting yourself as an artist and use this last year in the studios to fully make use of all the facilities at hand, to make use of the group critics and tutors. I want to expand my practice, develop my skills, and become prouder in my work, breaking the imposter syndrome that haunts every artist and push my work into the real art world. It is a year to reach out to other creators, to galleries and artist, to create a community who not only empower myself, but we can empower each other through the liberation of art.