Csilla Budai
Current student
Course
I opted for an international exchange and I went to Joshibi University, at their Suginami campus which is in Tokyo, Japan. I was an exchange student majoring in Media Art and Design at their Department of Cross-Disciplinary Arts.
I was told studying abroad would be beneficial, but I did not think it would be as rewarding as it was! For example, I can now approach anything with an internationally conscious perspective, which is important within the context of art but also as a citizen in an ever-globalising world. It also improved my self-esteem, and I was able to improve my language skills, meet people from other cultures, and form many meaningful connections that I would not have been able to otherwise.
My confidence in my art improved, as my artwork was well received there despite the cultural and geographic differences. Due to Joshibi University's specialist facilities (and the broader presence of technology in Japan), I was able to learn and freely experiment with AR/VR technologies, laser cutters, 3D printers and state-of-the-art creative software, just to name a few. In exchange, I was able to bring unique perspectives to my classes, mainly stemming from the art history and theory that I learned at Loughborough.
The classes were very organised, with morning and/or afternoon periods to attend. During these sessions, there were lectures that focused on contextualising art practice (similar to those at Loughborough University) and some designated time to experiment or make work independently. I also had a Japanese class once a week, and typically I would spend my free periods working on my language skills or towards one of the projects. After that (and on weekends), I would spend time with my friends, explore Tokyo or try a new restaurant.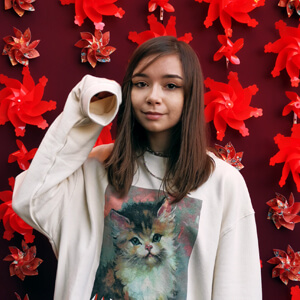 Living independently and studying in a new country is incredibly refreshing and enlightening for me. I was warned many times about culture shock, but I did not really experience it at all. I did a lot of research, kept an open mind, and dropped all preconceptions I had of the country. I was more surprised about how lovely the weather was and how much more intense my studies were, both quite different from Loughborough.
It was challenging. The language barrier was my main obstacle. Fortunately, the International Centre at Joshibi organised weekly lessons for me at the town hall and designated one of their students as a mentor for me. I also took extra classes externally in a nearby city because I found it quite fun. When it came to me having to give a 2-minute presentation at the end of my second semester, I decided to present in both spoken and written Japanese, and it worked out very well. It goes to show that the whole experience (with all of its obstacles) was a brilliant opportunity for personal growth.
I enjoyed all my experiences: the change of pace, gaining fresh perspectives on art, the food, the travelling, being immersed in a new culture, learning a new language, and just evolving as a person. But if I had to choose one thing, it would probably be making friends and connections with people. I cannot even explain how much that meant to me.
To anyone considering studying this course I would say that studying Fine Art at Loughborough will give you all the tools, facilities, connections, and opportunities you need to make the most out of your degree and prepare you for the years beyond. Though these years will be a chance to grow as a person, a student and a creative, they are also a great time to prepare yourself for a much bigger world. If you are thinking about studying abroad, do not be afraid to leave your comfort zone. Challenging yourself in such a way will always surprise you.