Andrea Pocock
Current student
Course
Since day one I have been inspired by the lecturers, the engaging conversations, and their research-led work. This has opened the possibility of a career within higher education whether that be a lecturer, research associate or an admin role within the university. Being able to work alongside students who are passionate about their subject and helping them through their journey of education would be a fulfilling job.
Technicians and lecturers are always passionate about your studies and helpful in directing you towards the people who can best help and advise your individual practise. Even if the technicians have never attempted something before, they will try and help you to create the work you are aiming for, their knowledge of techniques allows for a creative and professional approach to work.
My advice to anyone considering studying this course would be to try everything! Make the most of the facilities while you have them, and you may even discover you have a passion for something different!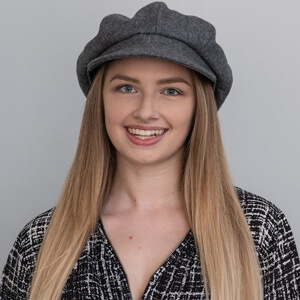 The facilities at Loughborough University were extensive and allowed for artistic experimentation. Alongside this the studio spaces were large, well-lit and your space was your own for the year, you could paint the walls or fill the space with sculptures, you started with a blank canvas which you could use however you deemed fit.
The extensive facilities have allowed progressive development of work and in my personal experience because the university has so many leading departments, I have been able to try working across the disciplines. I have been encouraged to follow my passions and this has led me to adopt various other fields of study into my work, be it psychology, computer science or product design.
Some of the most exciting opportunities I have had during my time at Loughborough are gaining funding and the opportunity to go on funded trips. After starting my business during my Year in Enterprise I required a small amount of funding, through the University and Santander was offering start-up funding. I was fortunate enough to gain this which helped my business.
Furthermore, I applied through the University for the opportunity to travel to Malmo, Sweden for the European Start-up festival which I was successful in. This funded trip allowed me to travel with students from the University I had never met before but who were like-minded and wanted to set up a business. In Malmo we attended workshops and networking events to develop our business skills.