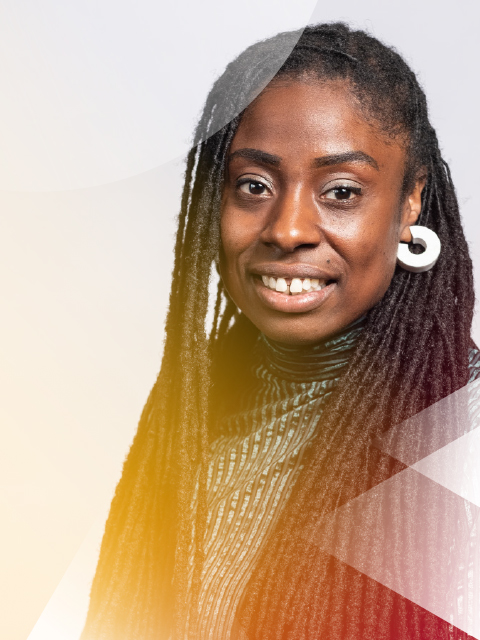 Dr Akiwowo is a practitioner-researcher and Lecturer in Textiles at Loughborough University, School of Design and Creative Arts.
She has a PhD is in digital laser-dyeing for polyester textiles, attained at Loughborough University (2015) in collaboration with the Society of Dyers and Colourists (SDC), Bradford. Her research, textile design practice and teaching reflect a range interests and expertise including textile coloration and patterning processes; design technologies and digital practices; collaboration and interdisciplinarity; archival studies; place-based heritage; community engagement; Black British identities in the UK; race, gender and socio-economic diversity in UK textiles higher education; and engaging students in design research activities for an enhanced educational experience.
Former academic posts include Senior Lecturer in Printed Textiles at De Montfort University, Leicester, as well industry roles undertaking freelance and studio textile design and trends for companies such as Line Consultancy and The Collection, London. She creates art and design work for display and debate; and (co)presents academic papers through symposia. She has disseminated both her practice and research internationally including Italy, France, Estonia, Japan, China, Australia, USA and the UK. Nationally, she has shown work at the Institute of Contemporary Arts (ICA), the Science Museum and at Loughborough University, Queen Elizabeth Olympic Park, London. She is a member of the Textile Design Research Group at Loughborough University and a Fellow of the Higher Education Academy (FHEA), having completed a Postgraduate Certificate in Academic Practice (2018).
Dr Akiwowo has contributed to several acclaimed subject-specific books and articles within Textile Design; Fashion; Technology; Innovation; Aesthetics and Sustainability contexts. She continues to publish academically and speak on issues around representation, inclusion, equality and diversity, as a black British female scholar with over 20 years of experience in art and design education in the UK; and over 35 years of experience navigating a complex multicultural society. Originally from Southeast London, gradually moving further north of England has afforded depth and insight into her outlook as an academic and a member of the creative industries.
Interests and exploration:
Textile coloration and patterning processes – dyeing and printing; fibre manipulation; thermochromic technologies; scientific exploration; integrated techniques
Digital design practices - digital printing; digital laser-dyeing; additive manufacturing; jacquard weaving; digital embroidery
Collaboration and interdisciplinarity – design; science; engineering; technology; social sciences; arts and humanities
Archival studies - textile and fashion archives; historical artefacts; catalogues and documentation
Engaging students in design research – research preparation; research skills; academic enhancement; research-informed teaching
Place-based heritage – Loughborough; Leicestershire; local industrial history; regional textile manufacture; geographical distinctiveness
Community engagement – people; place; culture; belonging; interaction; communication; shared experiences
Black British identities in the UK – placement; complexities; meanings; citizenship; black history; black Britain
Diversity in UK textiles higher education – representation; inclusion, equality; status
ACA612 Design Development for Textiles
ACA613 Textiles: Process and Exploration
ACB621 Materials, Processes and Conceptual Application
ACB622 Sampling and Textile Manufacture
ACB934 Fashion Theory
ACC633 Textiles: Innovation, Exploration and Invention
ACC635 Final Project Textiles Studio Practice
Engagement:
Rare and Distinctive Collections (RAD), Cornell University, USA
The Collections Resources Centre, Loughborough, UK
Charnwood Arts, Loughborough, UK
Society of Dyers and Colourists, Bradford, UK
Examination:
External Examiner: MSc Textile Design, Technology and Innovation, De Montfort University, Leicester, UK (2017-2021)
External Examiner: MA Design, De Montfort University, Leicester, UK (2017-2018)
Industrial Training:
Society of Dyers and Colourists – Introduction to Fabrics and Fibres; Colour Specification; Colour Management
Awards:
2017: Vice-Chancellor's Award for Excellence (Team Award), Loughborough University; Doctoral College Research Bursary, Loughborough University
2015: Research Fund (SAED), Loughborough University
2011: Travel Bursary, Society of Dyers and Colourists
2010-2013: Collaborative Doctoral Award, PhD Studentship, Arts & Humanities Research Council
2006-2007: Research Preparation Master's Award, Arts & Humanities Research Council