RECOVER
Transforming forensic capabilities with a novel fingerprint development system
Developing fingerprints is a key forensic capability, but it is not always possible to lift usable prints from objects like discharged ammunition casings, IED fragments and cleaned weapons.
Our work developed and underpins a revolutionary new technology, RECOVER – a cutting-edge chemical vapour fuming process which provides unrivalled fingerprint development capabilities on even the most difficult surfaces.
Commercially available since 2018, it is now used by police forces worldwide.
Our impact
Inspiring confidence
A Royal Canadian Mounted Police study demonstrated full print retrieval in 12% of bullet casings, and achieved unprecedented success in retrieving prints from mock-ups of IEDs.
Police forces and government agencies worldwide have purchased, and are employing, the technology.
Commercial venture and job creation
Related fingerprinting activity
We worked with Historic England and the police as part of Operation Crucible to combat metal theft.
Prior to their release into circulation in 2016, we worked with the Bank of England on print retrieval from the plastic £5 notes.
The research
In 2007, we made a serendipitous discovery – the fumes created during a polymerisation process we were running revealed fingerprints on the surface of a glass vial. Further research proved the technique, and we published our findings to widespread interest.
In 2011, we began work with DSTL and CAST to maximise the potential of the process and tailor it with three priorities in mind: safety, ease of use, and the route to commercialisation.
Concerns about safety were addressed by changing the way the active material is generated within the process. The other two priorities were tackled by global forensic manufacturer Foster & Freeman Ltd who joined the collaboration in 2017.
RECOVER was launched in 2018, marking a step change in crime detection and security.
Development partners
DSTL
Home Office (CAST)
Foster & Freeman Ltd
Commercialisation
The technique – discovered and validated at Loughborough – was developed in collaboration with DSTL and CAST. Foster & Freeman Ltd joined the partnership, providing the necessary expertise to refine and optimise the technology for the security marketplace.
The new fingerprint development system – RECOVER – was commercially launched in late 2018.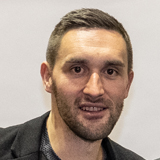 Currently, Chief Technology Officer for Foster & Freeman
Currently, R&D Applications Specialist for Foster & Freeman