The Child Feeding Guide
Online strategies and tools - improving the way we feed children and nurturing lifelong healthy eating habits
Fussy eating is common to half of the UK's children – and an unhealthy diet during childhood can contribute to preventable health conditions later in life.
Yet, many parents and caregivers – including health and childcare professionals – do not know how to encourage better eating habits in children, and many try strategies that unintentionally worsen the situation. This can cause anxiety and stress to adult and child alike, exacerbating the problem.
Our research, spanning almost 20 years, underpins much needed practical guidance for parents and caregivers – the award-winning Loughborough University Child Feeding Guide.
Our impact
More than 100,000 people have accessed the Child Feeding Guide (CFG)
It is part of the NHS Information Service for Parents
Use of the CFG is associated with improved feeding behaviours and lower levels of anxiety in parents
The CFG has changed feeding behaviours in nursery staff across the UK
The research
We initially identified the factors influencing adults' food preferences, and how the way they were fed as children has shaped these behaviours. We then focused on the important role that adult eating habits have on children.
Our key findings include the discovery of a link between poor feeding practices and young children's emotional eating, and the importance of positive role models in promoting children's healthy habits. Crucially, we have shown that adult behaviours can be easily modified to encourage healthier eating in children, and we have identified which mealtime behaviours can reduce fussy eating.
Our research exposed a disparity between the information available to those feeding children and what is known by researchers about how best to encourage the development of healthy habits. We realised the urgent need to bridge this gap – and, in 2012, the Child Feeding Guide was born.
The Guide is the first interactive resource of its kind dedicated to supporting the development of healthy eating behaviours in young children by their caregivers.
It is disseminated by the NHS as well as various charities, healthcare and family information services, and online parents' groups. To date, more than 100,000 people have accessed the Guide – with over 60,000 new users turning to its resources since its 2018 relaunch.
Research funders
The Garfield Weston Foundation
Higher Education Innovation Fund
Commercialisation
CPD-UK accredited training courses are available for health and childcare professionals to equip them with knowledge and support to help promote healthy eating in the children with whom they work.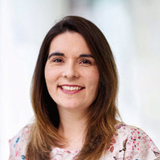 Currently, Chair in Child Eating Behaviour - Aston University