Triumph Motorcycles Ltd has provided £45,000 to support the Student Success Academy and three Opportunity Scholars.
Originally made possible through the generous donation of alumnus Chris Gill in 2021, the Student Success Academy aims to help students achieve their goals during their time at University by providing a holistic package of support through initiatives including Academic Success Coaching, Micro-Internships and the Future Black Talent Programme.
Additionally, Triumph will be supporting three students who receive cash bursaries through the Opportunity Scholarship. These scholarships are allocated to UK students living in areas of low participation in higher education, areas of socio-economic deprivation, or those entitled to Free School Meals. The Scholarship eases the financial burden to those wanting to attend university by providing them with £3,000 per year for three years. The initiative has seen a record number of Scholarships awarded, with a cohort of 53 for the 22/23 academic year.
Triumph supports scholars who began their university experience this month and are studying Product Design Engineering and Automotive Engineering.
Nick Bloor, Chief Executive Officer of Triumph Motorcycles Ltd commented: "We are delighted to partner with Loughborough University in the creation of the Triumph Motorcycles Opportunity Scholarship. Through this scholarship, we hope to make a positive difference to the university experience, career opportunities, and the lives of each student we support.
"In addition to financial support, we will be offering mentoring and work experience opportunities within our Design department to ensure the Triumph Motorcycles Opportunity Scholars have access to a foundation of support and professional experience on which they can build their careers."
Rachel Thomson, Pro-Vice Chancellor for Teaching from Loughborough University added: "We are delighted to have received this philanthropic donation from Triumph which has enabled us to welcome the first 3 Triumph Opportunity Scholars to campus to begin their studies in Engineering.
"Our scholarship programme ensures that academic ability, not financial capacity, is the reason a student can come to Loughborough University and make the most from the full student experience.
"At Loughborough, we work with students so they can achieve their dreams and goals and develop the skills they need for their life and career beyond their time here. Our challenge is to ensure that all students are in the best possible position to make the most of the opportunities available to succeed in their studies and future careers, whatever they choose to do. These additional scholarships will really make a difference. We are very grateful to Triumph Ltd for their support in this important area."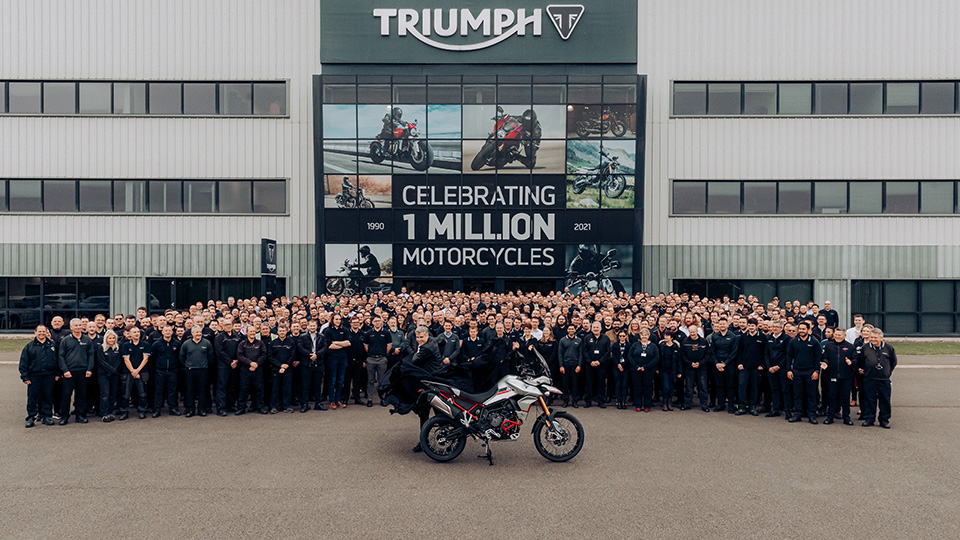 Triumph Motorcycles Ltd is celebrating 120 years in 2022 as one of the most iconic British motorcycle brands, with a rich history of motorcycles alongside clothing and accessories and partnerships with the likes of James Bond and Breitling.
Scholarship programmes at Loughborough have supported hundreds of students. You can find out more about the impact of scholarship donations online. If you would like to find out more about giving to Loughborough, check out the website, or get in touch.