News
Experts in Sport: Does sponsorship in sport have an unhealthy relationship with junk food?
January is a time many people revaluate their diets and put away those sugary snacks after over-indulging during the festive period.
Many new year's resolutions are orientated around sport and fitness, but have the lines now become blurred as major sporting organisations continue affiliations with processed food and drink brands through sponsorship?
In the latest episode of the 'Experts in Sport' podcast, host Martin Foster (Applied Sport Management Lead) is joined by Joe Piggin, senior lecturer in Sport Management, to discuss junk food sponsorship in sport and its potential impact on wider society.
Joe touches on various topics, including what is considered as junk food, brand responsibility, the part 'pester power' plays and the reasons why specific companies see sport as a viable platform to push their products.
"The simple marketing logic is that sponsors connect with consumers at a very emotional time in their lives. Sport is emotional, it's about being involved, it's about joy and the uncertainty of an outcome, all that leads to consumers being excited," said Joe.
"That's the reason why sports organisations, clubs, and events are targeted by food companies, and in the past, alcohol and cigarette companies. They're still targeted by gambling companies and if you think about these four examples; gambling, cigarettes, alcohol, and junk food, those are things which can cause a lot of harm in society.
"But - and this is where we get into the economics of it - the companies which sell a lot of these types of products have the money to be able to sponsor sport as these products are cheap to make at scale."
Also discussed are the repercussions of brand power and how conflicting messages could set a dangerous precedent, as Joe explains:
"What I have an issue with is at Rio 2016 (Olympic Games) they adorn the ultra-processed foods such as Coco Pops and Crunchy Nut Cornflakes, which are very high in sugar.
"If you're a parent thinking, well, I shouldn't be buying this high sugar cereal for my child, but at the same time on the packets, you could win a day with an Olympic hero - that's some very confusing messaging. The parents are thinking, oh, if it's got Olympic athletes on the packet, it must be okay…it does create some real issues in terms of health promotion."
Martin and Joe also look at the future of sport sponsorship, including possible next steps to protect the health of young people.
The podcast is available to download in full by visiting Buzzsprout, where listeners can also subscribe to receive an alert once new episodes are published.
The 'Experts in Sport' podcast is a regular series that brings together experts from across Loughborough University with external thought leaders to discuss the latest research and hot topics in sport and academia.
Notes for editors
Press release reference number: 20/04
Loughborough University

Loughborough University is equipped with a live in-house broadcast unit via the Globelynx network. To arrange an interview with one of our experts please contact the press office on 01509 223491. Bookings can be made online via www.globelynx.com
Loughborough is one of the country's leading universities, with an international reputation for research that matters, excellence in teaching, strong links with industry, and unrivalled achievement in sport and its underpinning academic disciplines.
It has been awarded five stars in the independent QS Stars university rating scheme, named the best university in the world for sports-related subjects in the 2019 QS World University Rankings, University of the Year by The Times and Sunday Times University Guide 2019 and top in the country for its student experience in the 2018 THE Student Experience Survey.
Loughborough is in the top 10 of every national league table, being ranked 4th in the Guardian University League Table 2020, 5th in the Times and Sunday Times Good University Guide 2019 and 8th in The UK Complete University Guide 2020.
Loughborough is consistently ranked in the top twenty of UK universities in the Times Higher Education's 'table of tables' and is in the top 10 in England for research intensity. In recognition of its contribution to the sector, Loughborough has been awarded seven Queen's Anniversary Prizes.
The Loughborough University London campus is based on the Queen Elizabeth Olympic Park and offers postgraduate and executive-level education, as well as research and enterprise opportunities. It is home to influential thought leaders, pioneering researchers and creative innovators who provide students with the highest quality of teaching and the very latest in modern thinking.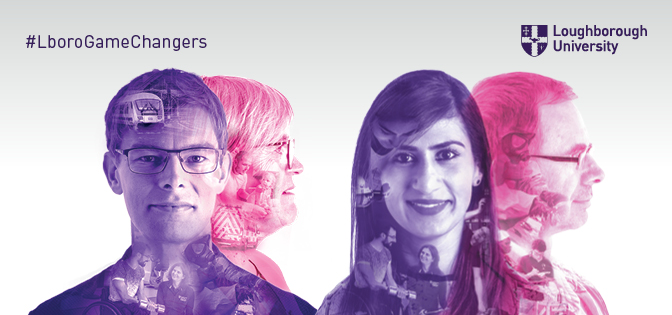 Loughborough staff, students and alumni make a real difference. They challenge convention, think creatively and find solutions to some of the biggest challenges facing society today and in the future.
Meet the #LboroGameChangers at lboro.ac.uk/lborogamechangers