News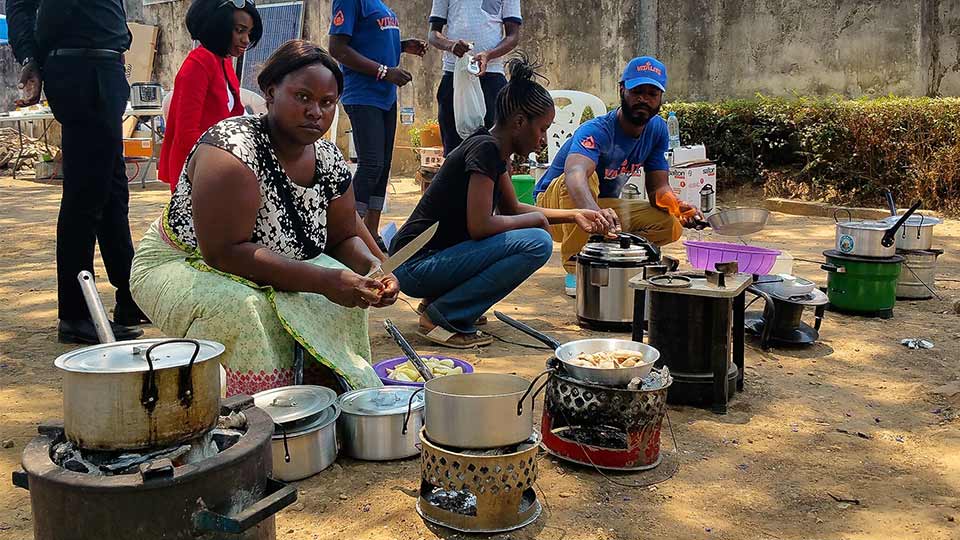 Loughborough-led programme awards £1.3m to projects and innovators in a bid to accelerate the transition to clean cooking on a global scale
More than £1.3m has been awarded to six clean cooking innovators and 22 projects thanks to a Loughborough University-led research programme that looks to find innovative, clean and modern alternatives to biomass fuels, such as charcoal and wood.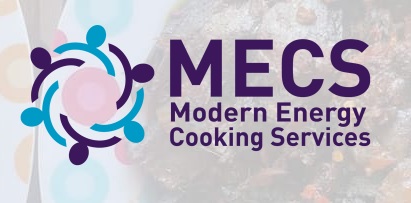 The Modern Energy Cooking Services (MECS) initiative, funded by UK aid and managed by Loughborough University in partnership with the World Bank's Energy Sector Management Assistance Programme (ESMAP), has distributed the funding as part of two competitions.
Currently, over a third of the world's population cook using polluting fuels, leading to around four million premature deaths each year – primarily among women and children.
Using charcoal and wood to cook has a significant impact on climate change, contributing three per cent of the total CO2 emissions every year.
The use of these biomass fuels, particularly charcoal, involves cutting and burning of wood sources, of which 34 per cent comes from unsustainable sources.
The £39.8m MECS programme aims to find ways to get two billion people to use electricity to cook at home and to do so in an affordable, reliable and sustainable way.
Cooking with biomass fuels causes more deaths than malaria, HIV and TB combined.

This is how we are helping #UNGA #ClimateAction pic.twitter.com/GWmOeMojdl

— DFID (@DFID_UK) September 23, 2019
It will also find solutions to provide clean cooking options for the one billion people that do not yet have access to electricity.
To help achieve its goals, the programme will run competitions to award funding to tech companies, research institutions and NGOs that are looking to invent alternatives to traditional biomass fuels used in cooking or are already working to make changes in this area.
The winners of the 'TRIID challenge' and 'Research and Development Grant Fund' have now been announced. The details of the projects the money will support can be found below.‌
TRIID challenge
The Technology Research for International Development (TRIID) challenge fund competition has awarded £642,000 to a range of projects that look to change the narrative around clean cooking.
The competition centred on four key themes:
Energy storage for modern energy cooking services
Grid and infrastructure adaptability
Alternative fuels
Delivery models, including business, gender and accessibility (e.g. in relation to groups such as the disabled) concerns.
Funding has been awarded to 22 applicants across five continents for projects situated in a range of urban, peri-urban and rural locations in Bangladesh, Cambodia, Ghana, Kenya, Malawi, Myanmar, Nepal, Nigeria, Tanzania, and Uganda.
Successful applications have been awarded up to £30,000 each, with projects to run for six months.
It is hoped the competition will help find innovative, clean and modern alternatives to biomass fuels, such as charcoal and wood. Image courtesy of Getty Images.
One of the winners is Bidhaa Sasa (which means 'Products Now' in Swahili) – a Kenya-based start-up which distributes and finances goods and technologies for under-served rural communities.
Rocío Pérez Ochoa, co-founder and director, commented: "At Bidhaa Sasa we have been trying to 'crack' the adoption of clean cooking technologies in rural areas in Kenya for the last four years.
"This collaboration with MECS will help us understand better our target market, low-income rural women, their aspirations and needs as well as come up with better marketing strategies to increase the awareness of technologies such as efficient cookstoves, LPG gas and electric appliances."
Other competition winners include: AMPERES, iDE, Tatedo, SunBuckets, PEEDA, Pesitho, Kisambara, PowerGen RE, ServedOnSalt, Kachione, M-KOPA, SCODE, Climate & Development Centre, United International University, Power For All, Calpoly, SOWTech, PayGo Energy, CREATIVEnergie, Smart Villages Research Group, Bidhaa Sasa and GenDev.
Research and Development Grant Fund
MECS in conjunction with the Energy for Access Coalition has provided £750,000 to six organisations conducting innovative research on highly efficient cooking appliances to reach populations in developing countries not served by the national grid or by a weak grid.
This MECS funding will support 'near-to-market products', which could reach customers in developing countries very soon with the appropriate support, and 'horizon technologies', where additional fundamental research is needed to make new products possible in longer timeframes.
Supported projects will work on a range of innovations including electric pressure cookers, solar electric cookers and business models to improve the affordability of clean cooking appliances.
Funding has been awarded to those looking at developing highly efficient cooking appliances.
Winning organisations and projects include:
The projects, which will include field trials, will take place in a number of countries over the next two years, including Kenya, Uganda, Haiti and Myanmar. The projects last for up to 24 months with all work due to be completed by May 2021.
Of the two competitions, Professor Ed Brown, National Co-Coordinator of the UK Low Carbon Energy for Development Network at Loughborough University and the Principal Investigator of MECS, said: "We are really excited about the wide range of innovations that we are supporting through the MECS challenge fund activity.
"We are working with nearly 30 organisations who are bringing new approaches, technologies and skills to the struggle to bring modern energy cooking services to the billions that currently don't have access. This is impact-focused research in action."
For more information on MECS, visit the dedicated webpage.
Notes for editors
Press release reference number: 19/181
This partnership is working to achieve the United Nation's Sustainable Development Goal 7 – ensuring access to affordable, reliable, sustainable and modern energy for all by 2030.
The MECS five-year £39.8 million programme builds on previous Department for International Development (DFID) funded research on clean cooking.
Loughborough University is also involved in DFID's Transforming Energy Access programme and is also being funded through the Energy Research Accelerator (ERA) - a £65 million project funded by Innovate UK (via BEIS).
Loughborough University
Loughborough University is equipped with a live in-house broadcast unit via the Globelynx network. To arrange an interview with one of our experts please contact the press office on 01509 223491. Bookings can be made online via www.globelynx.com
Loughborough is one of the country's leading universities, with an international reputation for research that matters, excellence in teaching, strong links with industry, and unrivalled achievement in sport and its underpinning academic disciplines.
It has been awarded five stars in the independent QS Stars university rating scheme, named the best university in the world for sports-related subjects in the 2019 QS World University Rankings, University of the Year by The Times and Sunday Times University Guide 2019 and top in the country for its student experience in the 2018 THE Student Experience Survey.
Loughborough is in the top 10 of every national league table, being ranked 4th in the Guardian University League Table 2020, 5th in the Times and Sunday Times Good University Guide 2020 and 8th in The UK Complete University Guide 2020.
Loughborough is consistently ranked in the top twenty of UK universities in the Times Higher Education's 'table of tables' and is in the top 10 in England for research intensity. In recognition of its contribution to the sector, Loughborough has been awarded seven Queen's Anniversary Prizes.
The Loughborough University London campus is based on the Queen Elizabeth Olympic Park and offers postgraduate and executive-level education, as well as research and enterprise opportunities. It is home to influential thought leaders, pioneering researchers and creative innovators who provide students with the highest quality of teaching and the very latest in modern thinking.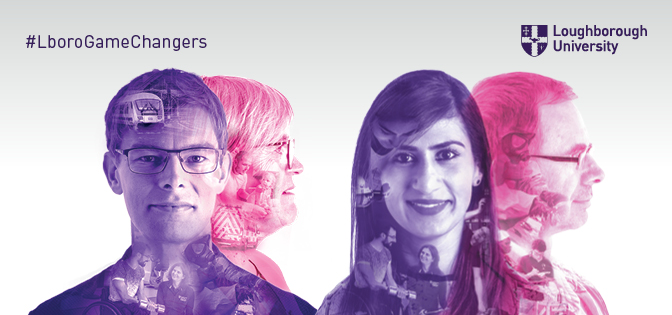 Loughborough staff, students and alumni make a real difference. They challenge convention, think creatively and find solutions to some of the biggest challenges facing society today and in the future.
Meet the #LboroGameChangers at lboro.ac.uk/lborogamechangers