Watched on by an expectant crowd at Alexander Stadium, Zac Shaw duly delivered by producing a blistering performance in the Men's T11/12 100m to take silver in 10.90 seconds.
Shaw, who has endured a difficult year, dedicated his medal to his mother who was watching on from the stands.
"It's been a tough year. Last year my mum got diagnosed with brain cancer and I missed out on Tokyo," he said.
"She was cancer free a couple of months ago, so to share this moment with her - the medal is for her.
"It's tough to watch someone you love go through something like that so, for me, this whole year was I wanted to put a smile on her face and make her proud. The moment means a lot."
The race was won by South Africa's Jonathan Ntutu who defended his title to take gold in 10.83 seconds.
In the field, Loughborough-based Lawrence Okoye won his first international medal by finishing second in the Men's Discus. The former American Footballer, 30, threw an outstanding 64.99m on his fifth attempt to guarantee silverware.
"Today wasn't perfect but to medal in front of a home crowd, it doesn't get too much better than that. It's a massive breakthrough for me. I have doubted myself quite a bit so to do this means a lot," he said.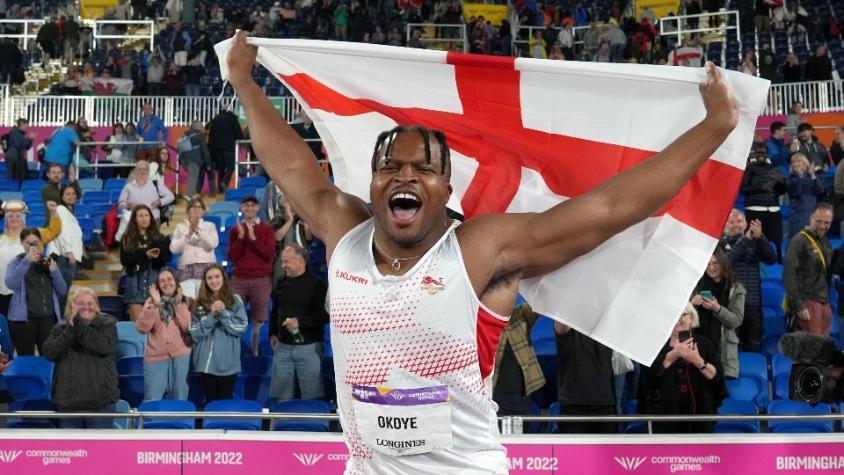 Lawrence Okoye celebrates winning silver in the Men's Discus. Image provided by PA/Alamy.
‌Elsewhere, following the glorious double powerlifting medal earlier in the day, Loughborough-based duo Mark Swan and Micky Yule both added further medals in their respective categories.
Swan, competing in the Men's Lightweight competition, scored 145.5 to win silver, behind Malaysian Bonnie Bunyau, whose new Games record score of 154.6 points gave him gold.
Nigeria's Innocent Nnamdi took home the bronze medal, recording 132.5.
In the Men's Heavyweight category, 42-year-old Micky Yule won bronze in his third Commonwealth Games appearance after twice placing fourth. The former British Army staff sergeant, who was injured by an improvised explosive device (IED) in Afghanistan in 2010, added to his Tokyo Paralympic bronze as he scored 130.9.
Sudhir Sudhir of India won gold in 134.5 with Nigeria's Ikechukwu Christian Obichukwu third after posting 133.6. Fellow Loughborough competitor Liam McGarry finished in fifth place (116.4).
Loughborough's medal total now stands at 36 – 12 gold, 14 silver, and 10 bronze.
Loughborough's dedicated 2022 Commonwealth Games website features all the latest news, videos, and medal tables from Birmingham.