Newson, who trains at the University, lifted 101kg to register a score of 102.2 to take the title, bettering her Gold Coast 2018 bronze in the same category.
Loughborough University student Olivia Broome took silver, her maiden Commonwealth medal, after lifting a huge 111kg in her final attempt to score 100.
The 4kg increase attempt was enough for a personal best for the Chorley local who now has back-to-back medals at major championships following her bronze medal at the Tokyo Paralympic Games.
In a technical competition of the highest standard, Kenya's Hellen Kariuki's 98.5 secured bronze.
Following her podium finish, Olivia Broome said: "I'm over the moon. I was in my own zone, laser-focused on what I needed to do and wanted to achieve. It couldn't have gone any better than it did.
"A medal means so much to me. When I started this sport, I never thought I'd be here now. I thought it would be years before I could call myself a Commonwealth silver medallist."
Gold medal winner Newson added: "I was just trying for a PB [102kg], to enjoy it and do my best really. But coming away with the gold medal is a massive bonus. I didn't get the PB but I got the gold medal so I'm happy with that."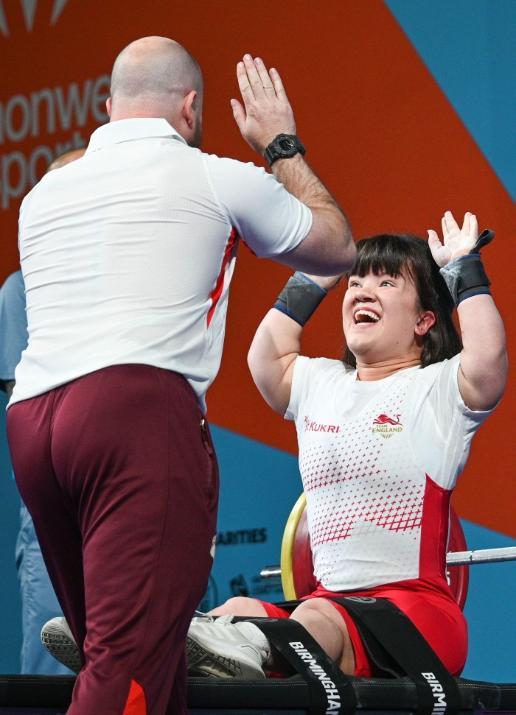 O‌livia Broome celebrates her 111kg lift. Image provided by PA/Alamy.
Loughborough's dedicated 2022 Commonwealth Games website features all the latest news, videos, and medal tables from Birmingham.