Our staff
Dr Simona Rasciute BSc (Kaunas), MA (Kaunas), MA (Brussels), PhD (Loughborough)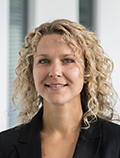 Senior Lecturer in Economics
Foreign direct investment; discrete choice methodology
+44 (0)1509 223620
BE.1.15 (Sir Richard Morris Building)
Module Organiser:
ECA004 Quantitative Economics
ECC038 Applied Econometrics
ECP256 Applied Financial Econometrics
Dr Simona Rasciute is a Senior Lecturer in Economics at the School of Business and Economics, where she also gained PhD in Economics in 2008. She completed her undergraduate studies in Economics at Vytautas Magnus University, Lithuania, after which she also finished two Masters degrees in Banking and Finance at Vytautas Magnus University and in International Trade and European Integration at Free University of Brussels.
Simona's research is focussed around the application of discrete choice econometric models and based on this she is seeking to make a sustained contribution to two substantive areas of research. The first is International Business and, in particular, the location choice of Foreign Direct Investment (FDI). The second is in connection with public policy evaluation and particularly the impact of physical activity initiatives and behaviours on health and well-being.
Downward, P. and Rasciute, S. (forthcoming). 'No man is an island entire of itself'. The hidden effect of peers on physical activity, Social Science and Medicine.
Downward, P., Greene, W. and Rasciute, S. (forthcoming). Do relational goods raise well-being: an econometric analysis, Eastern Economic Journal.
Downward, P. and Rasciute, S. (2015). Assessing the impact of the National Cycle Network and physical activity lifestyle on cycling behaviour in England, Transportation Research Part A: Policy and Practice, 78: 425-437.
Rasciute, S., Puckett, S., & Pentecost, E. J. (2015). The allocation of oecd direct investment between ceecs: A discrete choice approach. Bulletin of Economic Research, 67 (S1), S26-S39.
Rasciute, S., Pentecost, E., and Ferrett, B. (2014). Firm heterogeneity in modelling foreign direct investment location decisions. Applied Economics, 46(12): 1350-1360.