30 Jun 2023
Civil Engineering student wins at 'Women in Property Midlands Student Awards'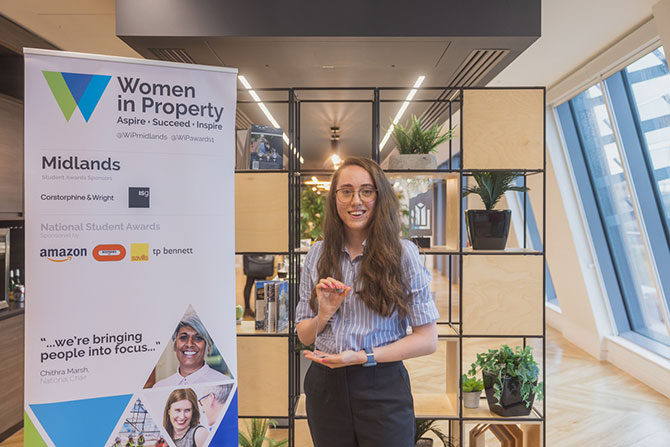 Employers working in the property and construction sector had a unique opportunity to meet some of the most talented built environment undergraduates in the region, at the Women in Property Midlands Student Awards, hosted by Savills in Birmingham. 19 students took part in the Awards this year, representing disciplines including Architectural Technology, Quantity Surveying, Civil Engineering, and Property Development and Planning.

Aimée Darley studying Civil Engineering at Loughborough University is one of two regional winners, who will go forward to represent the Midlands at the national final in September. The judges said of Aimée, "…she gave a great presentation with a really engaging presence in the room, a great ambassador." Regional winners receive a £500 cash prize, a trophy, and the opportunity to take part in Women in Property's mentoring programme.

Hannah Floyd, Women in Property Midlands Branch Chair and Director of FF&E Consultancy Pi SQ, said, "This is a great opportunity for our local businesses, in an industry that continues to suffer a skills shortage. Year on year, employers compete for new skilled people to help deliver their housing, infrastructure and commercial projects, yet we have all this inspirational talent right on our doorstep."

Hannah continued, "We encourage local businesses to get behind the students, with work placements, or simply just keeping in touch, offering advice and guidance as they approach their careers. This sort of connection is extremely motivating and confidence-building for the students, and works well for potential employers, who get to know them early on, hopefully, offering them a job on graduation."

The National Awards programme, sponsored by Amazon, Bouygues UK, Savills and tp bennett nationally, and by Corstorphine & Wright and ISG in the Midlands region, was established in 2007 to seek out the top built environment students each year and raise awareness to the many amazing and diverse career opportunities offered across the industry. Regionally, each 2nd year student (3rd in Scotland) is nominated by her University, submits a piece of coursework and then goes before a judging panel in March.

The final judging panel for 2023 will be held in London on 21st September, when Aimée will compete with 13 other students for the top, national Award. This will be followed that evening by the national Best of Best Dinner at Claridge's, when the winner will be announced.