About the department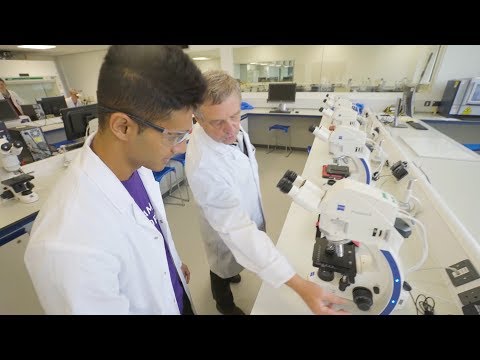 Let one of our current students take you on a personal tour around our new £17 million investment - STEMLab.
STEMLab
Investing in your future
Opened in 2017, STEMLab acts as a hub for Science and Engineering students, providing a truly student-focused laboratory learning environment.
Today, Loughborough University is one of the UK's leading centres of excellence for teaching STEM subjects - with a proven track record in supplying industry with high-calibre, highly motivated graduates. The demand for STEM skills across sectors is huge, and only expected to grow. STEMLab represents a £17m investment in ensuring Loughborough University can meet the demands of industries and the demand from students for innovative courses in STEM subjects.
For Chemistry students, STEMLab provides two brand-new, state-of-the-art laboratories designed primarily to allow students to explore and appreciate the principles of physical and inorganic chemistry. Within the space there are 7 fume cupboards and laboratory benches to facilitate a range of different experiments. STEMLab also provides a new Microscopy Suite including facilities for chemical analysis.
Specialist instruments and equipment includes: 400 MHz, 500 MHz and solid-state NMR spectrometers, single crystal and powder X-ray diffractometers, a high resolution inductively-coupled plasma mass spectrometer, sector field organic MS, GC-MS and linear ion trap LC-mass spectrometers, ion mobility spectrometers, gas and liquid chromatographs.
In addition to STEMLab, a projected investment of £6million for Chemistry teaching laboratories in the refurbished Sir David Davies Building will bring expansive teaching space for students in 2018.
For more information about these exciting developments visit: www.lboro.ac.uk/stemlab