Will Marriott
Course

Subject area
What initially attached me to Loughborough was that I loved the campus feel; with everything being in one location and the feeling that you are all part of one big Loughborough Family. I also loved the sound of my course, as it was the only course I found that was specific to materials as well as the automotive industry and was also regarded as one of the best universities for the Materials in the world.
I chose to study Automotive Materials Engineering as I always had a passion for the automotive industry and all things that moved, but also an interest in seeing how parts were made and what the materials were that made those parts and how we could change those materials to suit the required need.
Throughout the course, there was a lot of practical hands-on work that could be done to really understand the concepts you were learning about, as well as good projects like helping to design parts for the Formula Student team. The facilities and the knowledge of the lectures were amazing with some of the coolest labs and equipment around.
One of my favourite modules was Automotive Crash Protection, where we learned all about the history of crash safety and what materials are good for use in vehicles to aid in crash situations.
I did complete a placement year, and it was good to have this option built into the course. I worked for Bentley Motors in their materials development team, working mainly with wood veneers but also on other materials, such as leather. This has helped me with employability as I already had one years' experience in the working world.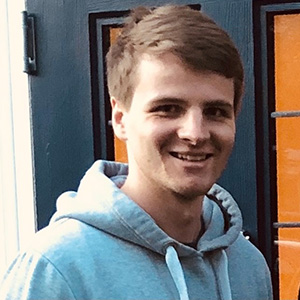 Once I graduated, I worked at Jaguar Land Rover (JLR) working in their Special Vehicle Operations department, working on developing whole vehicle test programs for the future vehicles. In July 2018 I was lucky enough to move to McLaren Automotive, working as a project engineer for McLaren Special Operations (MSO), where I was working on developing bespoke limited run features for customer cars.
Since February 2021, I have switched roles working in the main McLaren business. My degree supported me in this by not only giving me technical knowledge that I use every day to problem solve issues that are seen in design and manufacture of parts on vehicles, but also in giving me the skills I needed to be able to present and reason technically.
One of the key skills that I learnt during my degree was how to look into an issue and research by asking questions and testing possible failures, and then finding the reason why an issue occurred, but also then knowing about the subject to be able to solve the issue.
I am currently working for McLaren Automotive as a project engineer, helping to organise the design and development of exterior trim for vehicles present and future. I do use skills that I learned at Loughborough every day and it has even helped me to quickly understand key issues with materials as well as to be able to share those findings with the wider team to quickly get issues fixed.
I loved the social atmosphere of the campus and all the activities that you could do around the university. I also got all the support I needed from diagnosing my dyslexia to help with understanding key principles on my degree.
One of my favourite things about being a Loughborough alumnus is that you feel part of one big family, you come across people who also went to Loughborough and then you connect over the places and lectures that you might have shared at different times. I have come across many other Loughborough alumni in my career, and all have been working in a variety of areas of the automotive industry.
I would say definitely do apply to the course, it gives a great understanding of materials that make up the majority of the automotive industry.