Leaving school without any specific ideas of what I wanted from my eventual career, I was looking for something that would cover a wide range of topics. Being engineering focused, but including a large amount of creativity, Product Design Engineering sounded ideal.
I have received lots of support during my studies. All staff have always been supportive and on-hand throughout the first two years of my studies. The support from the University has become even more evident to me this year as they've offered a large amount of encouragement regarding my book.
I've always been passionate about sport; so, being able to combine that with engineering was something that I was actively looking for. INCUS was perfect as it offered a solution/product that I believed in, and one that I was excited about. Being a start-up, it also provided lots of opportunity to learn about the business side of things too.
I learnt a lot on my placement – almost too much to put into words. Aside from what I have learnt from an engineering perspective, this year has allowed me to grow as a person in so many areas. I think work ethic and productivity will be one of the biggest benefits for me. Learning to juggle other commitments around a full-time job has definitely tested my time management skills!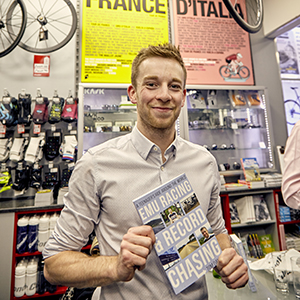 At the moment, I don't know what my career ambitions are, but I like to think I have a wide range of options still available and I think my course lends itself towards this.
I like sport, engineering and being creative – so hopefully something that covers those bases. My course definitely ticks those boxes, so hopefully I wind with a job that does too.
To anyone considering this course, I would say it's very much an engineering degree (I think some of my course mates underestimated that aspect), but it's incredibly well-rounded. I believe it opens doors into so many areas, giving you skills and insight into the entirety of a product development cycle, as well as skills to take ideas forward from a business perspective.
I would say, so far, my greatest achievement was writing and publishing my book. The majority of this was done throughout my second year and placement year. At many points I was required to put more time into that than my degree, and with no set deadlines, I had to be very self-motivated. It's been incredibly rewarding though.
During University, I put quite a lot of time into competitive cycling and, more recently, triathlon. It takes commitment, as any athlete will tell you – especially those who are also students. It's important to be clear on your priorities and accept that some aspects of your life may have to take a back seat if you want to succeed athletically and academically. Thankfully the location and ethos of Loughborough is very conducive to training hard.