Ever since watching Top Gun as a young kid, I've had an obsession with aeroplanes and through school I developed a strong interest in maths, science and computing. Loughborough's strong links to industry made it a very compelling option for me and, furthermore, its impressive facilities demonstrated the quality of the course.
All members of the department are approachable, helpful and knowledgeable. In addition to timetabled lectures and tutorial sessions, lecturers are happy to discuss queries in person or via email. The department and university work very hard to ensure that both technical and non-technical issues that students may have are addressed quickly and properly.
Flying on the Jetstream aircraft at Cranfield during flight test week was a phenomenal experience. It gave us an opportunity to gain a tangible feel for the aircraft performance concepts which we had learned. I've always felt that you gain a much deeper understanding of theory knowledge once you can visualise or imagine what is happening, and for me this was the pinnacle of that.
After my third year at University, I spent 12 months working for Rolls-Royce plc. as an intern. This was a massively valuable experience for me and the quality of Loughborough students and graduates before me, as well as its strong reputation certainly helped when applying for the role.
During my year as an Industrial Placement student at Rolls-Royce plc. it was clear to me that Loughborough is well respected in industry. I often heard praise about the quality of students and graduates that Loughborough produces and met a huge amount of Loughborough alumni within the company and engineering community.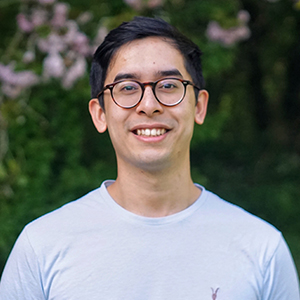 Seeing the huge amount of Loughborough graduates who go on to do incredible things will always be the greatest inspiration, as you know you're in a place where that can be you too.
The lecturers are passionate about their topics and this is especially apparent when you undertake your Final Year Project. The facilities available to students are of a high standard, covering a broad range of topics related to the course and encourage a deeper and more practical understanding of the subject.
My Final Year Project involved me using Computational Fluid Dynamics to simulate a novel concept for an aircraft gas turbine engine combustion chamber. Having the opportunity and resources available to independently research such cutting-edge technology and make my own discoveries was an incredibly rewarding experience. It felt like years of study had truly paid off.
My greatest achievement has to be achieving a First Class Honours degree classification, as I can leave knowing that I've done my best at university and given myself the best possible starting point for my career.
Much of my extra-curricular time, especially as a Fresher, was spent in the Students' Union on nights out. There are few other venues where you can have such a good time, whilst also being surrounded by people with which you have so much in common. There are events which cater to everyone's tastes, so you're almost guaranteed to enjoy yourself. Town has a number of pubs, clubs and bars which are great, particularly for those who move off-campus after their first year.
I also spent some time volunteering with Loughborough Students' Union Action, helping out with local litter picks and event organisation. I'd highly recommend this, especially to Freshers, as it allows you to step out of the student bubble for a little while and engage with other members of the local community.
After University, I am very excited to be joining Moog Aircraft as a Graduate Product Engineer, where the next step will be to aim for chartership status. My time at university has been crucial, as it has not only provided me with a high level of technical expertise within the field, but also allowed me to develop a wide range of skills which are key to a successful career.
My advice for prospective students would be "do it and do it well". This course is a fantastic opportunity that will leave you with a huge variety of important skills and a high degree of employability. Make the most of your time on the course and what it provides, so you can leave knowing that you've done the best you can. Loughborough is a university with plenty of scope for the "work hard, play hard" mentality, so make sure you take the time to enjoy what's available to students here.