Tara Macnab
Course

Subject area
Being in my final year, I can't quite believe how much I have learnt and how passionate I am about Psychology now, particularly since I hadn't studied it before.
I have really enjoyed learning from prestigious researchers who are so enthusiastic and engaging about their subject, while the variety of modules available to choose from has allowed me to explore all aspects of Psychology and learn where my main interests lie.
Through modules such as Neuroscience, I learnt so much about the consequences of damage to specific areas of the brain and it sparked an interest in me. The opportunity to do a placement at Evelina Children's Hospital in London also enabled me to put the quantitative and qualitative research skills I have been taught into practice.
These experiences inspired my dissertation, which focuses on the effects of concussion on memory and mood. I have previously had concussions and know a few friends who have as well. The subject is also very topical, with new guidelines and rules being implemented across a number of sports.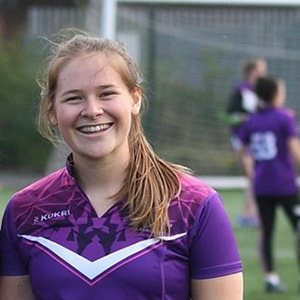 My research has found that a third of people who lose consciousness as a result of a concussion, self-report having memory problems.
Age and depression were also found to predict memory problems. An increase in age was shown to result in an increased risk of memory problems, while an increase in depressive symptoms was found to decrease the risk of memory problems.
Findings also showed that younger and higher educated people were at an increased risk of depression. There was some evidence of concussion being related to depression, but further research in this area is needed.
One of the cognitive tests used was negatively affected by concussion which suggests that there may be an effect of concussion on cognition.
I hope that my findings will raise awareness for concussion and the possible impact it may have. My tutor has suggested that I continue to develop my dissertation and look to get it published in a scientific journal.
The average time since the participant's last concussion was 6 years and so it would be interesting to see if different results were found in people with more recent concussions. It is also important to know that long-term effects could also be present many years later.
I have also been asked to support my tutor on a study into the effects on cognition from heading in football following my graduation. In the longer-term, I would like to become a Clinical Psychologist. Therefore, the opportunity to enhance my research skills and understanding of Psychology, and get my work published is so valuable.