Stephanie Yeboah
Subject area
I chose to study at Loughborough for multiple reasons. The first and most important was the university's and social sciences department ranking in various the leagues tables which showed me that there be high quality of teaching.
Reading up on the modules, I liked the variety that was offered and being able to choose modules specific to my interests. I also chose Loughborough because of the high ranking it had for student experience as although studying is important, I also wanted to be in a place where I would still be able to enjoy my time.
Finally, I also chose Loughborough because of the location. Coming from London, it's far enough away that I could be independent, but close enough to home that I would be able come and go as I liked, if I ever needed to.
I chose my course because I was able to study a combination of two subjects that interested me. I had studied sociology previously and I always enjoyed that. Criminology, on the other hand, was new to me. As cheesy as it might sound, I'd always had a fascination in crime documentaries so having the opportunity to learn about crime, criminals and the criminal justice system, theoretically interested me.
I enjoy the range of modules that are offered. The core modules give me fundamental knowledge, but the optional modules allow me to pick modules that I want to know more about. This includes modules that might be outside my course but indirectly related such as politics, psychology and media. This makes the university experience more enjoyable as it's almost as though the course is tailored to me.
My favourite thing about Loughborough is the community-like atmosphere. Although it is a town and was a big change for me moving from a big city, that's exactly what I liked about it. It's almost like you can go anywhere and bump into someone you know so I liked that social aspect of it.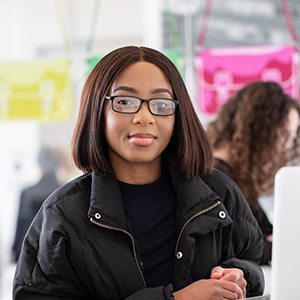 I would say my dissertation project has been my favourite module/project. I was able to pick a topic that had a personal interest to me, which I worked on for about 6 months. Being able to take charge with organising my work and conducting interviews to research a phenomenon was quite empowering and enjoyable for me.
I think that the quality of teaching and facilities are remarkable. All the lecturers I've come in contact with are incredibly knowledgeable and do a great job in sharing that knowledge in a way that makes it engaging. They are also helpful when it comes to providing further help through meetings and emails. There are also a lot of facilities such as the masses of study rooms, computers and books available that have helped me on my course.
I've had quite a lot of support from my lecturers who have helped me with understanding the content of lectures as well as with preparing for my coursework and exams. My personal tutor, who was also my dissertation supervisor, has been very helpful in every way. She has always availed herself to me to help me progress on my course and ensure that my personal experience of being at Loughborough is pleasant.
Now that I have graduated, I want to volunteer/work abroad either teaching or within criminal justice to get more experience in the working life. I think my degree will support this as it has given me knowledge and various skills, such as critical and analytical thinking as well as researching skills, all of which are transferable to a lot of industries.
I would also like to either do a master's degree in a topic related to practical criminology and forensics or a conversion course in law to ultimately work within the criminal justice system or in the field of criminal law.
To anyone considering coming to Loughborough, I would say be open to new experiences. Loughborough University offers so many things to get involved in outside of your studies, and I'm not just talking about sports. You don't have to be 'sporty' to fit in because I'm definitely not. There are many things to get involved in such as societies, volunteering, fund-raising and enterprise, to name a few.
Stephanie graduated from Loughborough University in 2019.