Sophie Cunnington
Course

Subject area
When I visited Loughborough for the very first time, after viewing other universities, I immediately got the feeling that this was there I wanted to be. I loved how large and green the campus was and that all the academic buildings were on one site for easy access.
I really wanted a fun and social university experience, paired with excellent teaching, so I was really drawn in by Loughborough being ranked within the top ten UK universities and number one for overall student satisfaction.
The Human Biology course is amazing at providing a wide variety of in-depth laboratory experience. Forming compulsory components of a large number of modules, you can easily find yourself on an exercise bike performing physiology tests, or in a wet-lab analysing DNA and being suspended in a pool of water to assess your body density.
Lab sessions provide crucial experience that is extremely useful on your CV and definitely helped me secure a job following graduation. You'll learn a lot of new, transferrable skills surrounding the planning, execution and analysis of experiments, which definitely helps in building up your knowledge so that you can perform well in your research project in final year.
I was lucky enough to go to Australia for a year, to study at the University of Queensland. This was an amazing experience where I was given complete freedom to enrol on any course that interested me.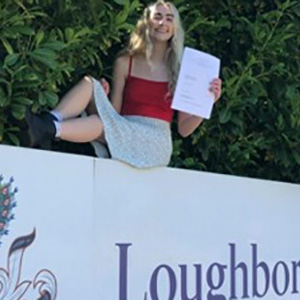 From learning about archaeology and Indigenous studies to marine biology, and even history of the supernatural, I was able to enjoy education knowing that the results from my study abroad year weren't going to impact my overall degree grade.
I became more independent, met new people, was able to go travelling and even improved my coursework writing abilities on the side. When I came back for final year, I felt much more prepared for the work ahead, especially when it came to my dissertation.
Highlights of my time at Loughborough include conducting a marine-based research project on Heron Island, in the Great Barrier Reef, as part of my study abroad year in Australia, being a member of the Athletic Union's BUCs badminton team and winning Loughborough University's Human Biology Prize for Academic Excellence 2020.
Through studying at Loughborough University, I have become a much more independent and confident person, with a clearer idea of what my interests are and what I want to accomplish in my career.
I have also gained a solid foundation of human biology knowledge and laboratory skills, from a recognised university, that will allow me to move on to explore multiple types of industry-related roles. Because of this, I have the ability to succeed in whatever I choose to do with my future, and I feel much more prepared to take on the workplace environment.
I've recently been offered a Research Associate position with Illumina, that is set to start in January 2021. This is a lab-based role within the Systems Integration department that will see me join a dynamic team that focuses on developing Next Generation Sequencing products that are used at the forefront of genomic research into disease association and personalised medicine.