The course offers modules in a range of business disciplines. This has developed my commercial understanding and is an aspect of the course I have really enjoyed since it has allowed me to appreciate how accounting and financial activities can impact a range of business areas.
For my placement I worked as an Operations Analyst at Volkswagen UK head office. The role was very analytical in nature and involved translating data into actionable insights that Senior Managers can use to make strategic business decisions. I learnt how important it is for me to step out of my comfort zone by taking on new tasks and projects. This developed my confidence in the corporate environment and was an extremely important part of my personal development. Perks such as a new car every four months was also a novelty that never wore off.
I have landed a graduate scheme role at Grant Thornton in the Financial Services Tax team where I will study for the ACA qualification.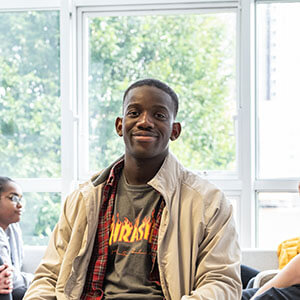 The course has made me a well-rounded individual, providing me with a strong foundation in Accounting and Finance as well having a good understanding of various other business disciplines. This is important, as the ability to apply technical accounting skills in a commercially focused way is a crucial part of being a successful Accountant.
The experience that I have built up during my placement year has really developed a range of key commercial and soft skills that I will need for life. This has also given me a lot more to talk about throughout the graduate scheme/job application process. Some modules are also very workplace focused and include vital skills such Excel.
I like the buzz around campus and the fact that it is always lively. There are so many different ways to stay busy outside of your academic study time. I personally enjoy the gym and sport facilities available to students on campus. It is great to be around so many who are extremely focused not just on their degrees but other extra-curricular activities too.
Sola graduated from Loughborough University in 2019.