Ryan Bolton
Course

Subject area
I chose Loughborough University because the content of the course really appealed to me.
I really like the flexibility in the choice of modules and how you're free to choose modules outside of your degree programme too. As well as studying history I've also taken politics and international relations modules which have been really influential in deciding what career path I want to take once I've graduated.
The opportunity to study abroad has also been huge part of my course. Spending 4 months in Canada was an unforgettable experience and I'll always be grateful to Loughborough for giving me the opportunity and support to take part in such a programme.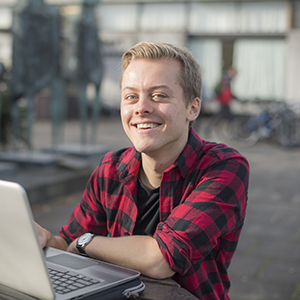 I highly rate the quality of teaching. The lecturers are really good at encouraging critical thinking and promoting discussion about course content.
I think it's also really beneficial that lecturers give courses on that's relevant to their own research, as I find it's a lot easier to engage with a course when the lecturers are enthusiastic about what they're teaching.
For me personally, the office hours put on by lecturers have been extremely helpful. Be able to further discuss assignments and course content with lecturers outside of the classroom has definitely been beneficial to my learning and my grades.
Career-wise, I hope ultimately to work in counterterrorism or a similar sector of government. As for my degree relates to this, not only has it allowed to me to study relevant modules and content, but it has also helped me to build the relevant skills such as carrying out in-depth research and critically analysing content.
Ryan graduated from Loughborough University in 2018.