Reina Yamada
Course

Subject area
In my current role, my main responsibilities include managing the athlete and team registration process, adhering to the different qualifications and classification systems for each sport discipline, at the Tokyo 2020 Olympic and Paralympic Games.
The role requires close collaboration with International Sports Federations, National Olympic and Paralympic Committees to track the distribution of all qualification places and ensure that athletes/teams who are eligible and qualified, are entered into the correct event under each sport discipline.
I decided to enter this area of work because I have always loved sport and found a passion for the Olympic Movement when I first learnt about it through the Olympic Studies module at Loughborough University.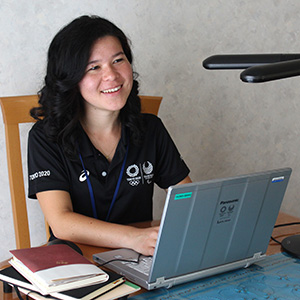 One of the main skills that I developed during my degree was my professionalism.
The opportunity that I had at Loughborough University to study in an environment surrounded by top facilities and the support of wonderful professors and fellow students who were always striving for excellence, encouraged me to also want to pursuit my very best at all times.
So I began to pay more attention to the quality of my work and ensure that, through time-management, any deadlines or expectations were always met with high standards.
This skill has continued to help me in my current role, as I have been able to always produce work to the best of my ability in a timely manner, making sure that the expectations of our customers and stakeholders are always met beyond satisfaction.
The support of the professors and tutors at Loughborough University, not only helped me with certain modules, but also gave me ideas and advice as I considered various career paths.
The Coach and Volunteering Academy gave me the opportunity to work on a volunteer basis for a non-profit sports organisation (Youth Sport Trust) for a period of time, while the Careers Network checked my CV and gave me very helpful tips along the way.
I got to know and eventually spend much of my time with a wonderful warm church community in the local area. I had the privilege of using various elite-level sports facilities during my time as a student and played for the Loughborough Students Women's Football Club.