Olivia Jeffries
Subject area
During my GCSEs and A levels I knew that I enjoyed working on design projects; developing products to help improve the quality of life of the user. I really liked the look of Loughborough's Product Design Engineering course as it brings together aspects of traditional engineering with design, and I knew that this would give me experience of a range of design problems and different areas within engineering.
I have always found the teaching at Loughborough to be of a high quality. The lecturers are knowledgeable and passionate about their subject, helping to make it more engaging and interesting to learn. When I have not understood something during lectures, the resources provided are comprehensive and help you understand the content. The lecturers have always been very supportive and been willing to answer any questions I have and this support is something I found very helpful, particularly in the modules I found more challenging.
The support team staff at Wolfson have always been there to answer any questions I have, whether that was about examinations or about moving from BEng to MEng. The placement team within Wolfson are incredible; they organised an annual careers fair, and this is how I found the company I went on placement with. They also helped me get started with the IMechE MPDS Scheme to start working towards being a Chartered Engineer. Everyone in Wolfson is extremely helpful and more than willing to give you time to answer any questions you may have about university life.
As part of my degree, I undertook a placement year at a medical device development company in the engineering department and I completely loved it. I learnt so much about engineering and felt much more prepared coming into the third year of my degree.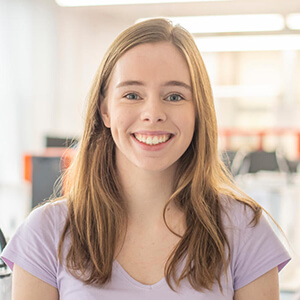 I really enjoyed my Part C individual project. This gave me the chance to do something I would really enjoy and am passionate about. I enjoyed managing my own project and taking the project from initial research, through the design and development stage, testing and then the evaluation of the project. This project was sponsored by my placement company, and it gave me the chance to work on a real-life problem and have support from industry, as well as from university. I was then given the opportunity to go back to the company and present my project work to them, and they were extremely excited and happy with the work I had done and the findings I had gathered. This opportunity is something I thoroughly enjoyed doing and am proud of.
Outside of my academic work, I have been Chair of the Wolfson Student Committee, helping to organise different events for student in Wolfson, including social, volunteering, and careers events.
I have also attended some "my lifestyle" free exercise classes; there are classes in so many different activities so you can try something new, and I really enjoyed doing these with my housemates. At the start of the year there are lots of taster events for different sports teams, I tried scuba diving and ballet and enjoyed them both.