Natalie Gillson
Alumna, Placement student
Course

Subject area
I loved Psychology when I started studying it at A-Level, so it was a natural choice for my degree. I was really interested in a course that offered work experience - with so many university graduates it really helps you stand out and feel confident entering the workplace.
Loughborough was also ranked in the top 10 for Psychology and had a really good range of modules. This made the course really interesting, while the opportunity to design a final year project that excites you also stood out.
I was lucky to have some fantastic lecturers and tutors. Wherever you go you will find experts in their chosen field who can impart knowledge, but what makes the real difference is having a tutor who genuinely cares how you're doing and is invested in your success.
The research knowledge I developed at Loughborough has been really helpful. I've referred back to my course notes many times and have been able to share hints and tips I learnt from my lecturers with my teams.
The modules on qualitative and quantitative research methods at Loughborough were excellent and really helped me think critically about research. They were really helpful not just for teaching you 'the rules' but why they exist. It makes you much better equipped to apply the knowledge in different areas and if you understand the rules, you start to appreciate when you can break them and why.
I can't begin to explain what a fantastic place Loughborough University is to live. There is a reason it has won best student experience so many times. It's something I didn't fully appreciate until I graduated and started speaking to people at work who has studied elsewhere – there is no comparison to Loughborough.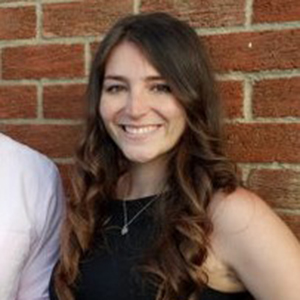 For my placement I worked as a Student Psychologist in an NHS Community Psychology department that provided support to people with severe and enduring mental health problems.
I can't recommend a placement enough, I learned so much about mental health conditions in an academic sense but also so much about the reality of peoples' experiences and support services available.
I was trained in Psychometric testing, shadowed therapy sessions and got to lead research projects which helped me realise where I wanted my career to go. It absolutely gave me the skills and experiences I needed to get a graduate research role.
Since I graduated, I have worked for the Civil Service as a 'Government Social Researcher'. In that type of Government role you apply for a profession, rather than a particular post so you don't know the exact area you'll work in. I didn't know exactly what I wanted to work in, so I thought it was a really good option to get experience of different types of research. I've been involved in a really wide range of projects, from designing interventions to increase survey response to developing and testing questions for the 2021 Census.
One of the things I really loved was being able to develop and test new research methods, for example virtual cognitive interviews, which proved incredibly useful during the COVID pandemic.
I recently moved to NHS Test and Trace, as the Lead for COVID-Related Research Studies. This has been a great opportunity for me to move into a health-related role, which had been my aim when I graduated. It's been a fantastic experience to work in a different setting and it's obviously very fast paced, which demands a really different research approach.
I am working on a number of COVID-related studies, including the leading study of COVID reinfections, which was picked up by news stations around the world and made the front page of UK newspapers.
Psychology is a great choice because it includes so many different disciplines, including report writing, statistics, research methods and writing lab reports. Many Psychology courses are quite similar because they're regulated by the BPS so look at what makes a course different.
Looking at the research interests of the lecturers can be really helpful - do they match the things you're interested in? Have a look at the types of final year projects people have done, as that's a good indication of what you might be able to do. I'd also recommend looking at what support is available outside lectures and the amount of contact time, so you can judge if it's right for you.
I got involved with RAG (Raising and Giving) and raised over £20,000 for charity by doing bucket collections all over country, dog-sledding through the Arctic and climbing to Everest Base Camp. I also learnt to scuba dive and still go on trips and attend annual dinner with the club as an alumni.
There are such a huge range of things to get involved with I would wholeheartedly recommend Loughborough to absolutely anyone. It's a decision I agonised over as an A-level student but I absolutely made the right choice.