Mia Fukino
Course

Subject area
Loughborough University is a leading research university and a renowned in sports science which, for me, translated into an outstanding choice for any biology-related course.
The University has provided me with many opportunities to utilise the state-of-the-art facilities. As a science student, I always get excited using the laboratory equipment in STEM lab and Clyde Williams. This practical component has allowed me to gain a better understanding of the theory taught in lectures.
The academic staff and the senior student volunteers have continuously provided academic support throughout my time at the University. The lecturers, tutors and peer mentors are more than happy to lend a hand when the content becomes difficult, and the course representatives are always looking out for course feedback to improve my academic experience.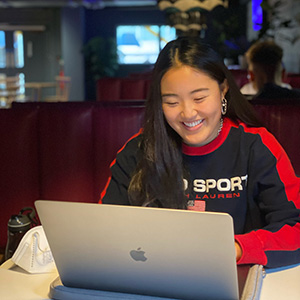 My industrial placement at Fujifilm Diosynth Biotechnologies gave me the opportunity to receive hands-on experience in research and the manufacture of microbial fermented active pharmaceutical ingredients.
As a production technologist, I was able to carry out, at times stressful, upstream, and downstream operations with a level head and in a methodical manner. As a junior scientist, I worked with senior research scientists to design and conduct process experiments.
I further developed valuable communication and time management skills and gained laboratory experience that I would otherwise not receive at a university.
Outside of my course, I have taken full advantage of the sporting opportunities on offer, representing the University in both football and volleyball in national competitions such as BUCs. I have also been able to fulfil my humanitarian interests with LSU, by collecting funds for the Hope for Children Charity, which went towards building and improving schools in Tanzania.
My experiences at Loughborough and my attraction to help people, have led me to apply for master's courses related to biomedicine. Additionally, the diverse content of my course modules has further solidified my interests in regenerative medicine specifically.
My advice to anyone thinking of applying to Loughborough is that it is okay not to know what you want to do as a career, as long as you are interested and passionate about what you're learning and experiencing, everything will work itself out.