Megan Stanley
Course

Subject area
I am currently conducting research in global health and nutrition. More specifically I am exploring the factors associated with the development of the infant gut microbiome in Peru.
This research project is part of a wider study currently being conducted in Peru, which aims to reduce the double burden of malnutrition, specifically anaemia and obesity through healthy complementary feeding patterns of infants.
My passion for research in global health, particularly in low-and middle-income countries, was driven by my final year project as part of the degree programme, where I considered the impact of natural disasters on infant and young child growth and health.
The opportunity to complete a project gave me an understanding of the processes involved in research, including: working independently to develop my own research questions, conducting relevant analysis, and delving into a topic I was passionate about, with the support and guidance of an academic supervisor, knowledgeable in the area.
The teaching in the Human Biology degree programme was of the highest quality and lecturers showed an inspiring enthusiasm for the topics taught. The information provided was always current and up-to-date, meaning that I always had a relevant understanding of a topic, something I certainly found useful as it made me aware of current issues particularly in human health and nutrition.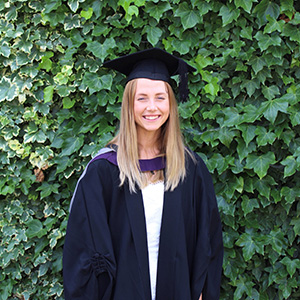 I completed a Diploma in International Studies, which involved studying overseas at the University of Western Australia. I feel that the opportunity to undertake a year either in a professional work placement or studying overseas is something that truly sets Loughborough apart from other Universities and was one of the key reasons I chose to study at Loughborough.
Studying at the University of Western Australia was an invaluable experience, it allowed me to explore different areas of interest, which perhaps are not part of the course at Loughborough (in fact it was here that I enrolled in a course in global health and my passion for the subject was initially sparked). I was also able to immerse myself into a different culture, make new friends from across the world and ultimately become a better global citizen.
Loughborough offers many opportunities for students to get involved in activities outside of your studies. Whilst Loughborough is known for its fantastic sporting facilities, there are so many other activities to get involved with – there really is something for everyone!
Personally, I thoroughly enjoyed coaching the MyLifestyle Netball sessions, which are free, recreational sessions that are inclusive for all. I also enjoyed getting involved with volunteering activities as well as fundraising for charity by taking part in a challenging cycle ride from London to Paris.