Megan McKone
Course

Subject area
I first came across Loughborough when I was researching universities that offered Natural Sciences. I dragged my poor parents all over the country looking at countless universities and I never had that feeling of belonging as all my friends had at their chosen universities. I was just beginning to accept that maybe there was no university I would feel that way about and then I came to Loughborough. I already had my results and a clearing offer from Loughborough before I visited. Loughborough in the spring and summer is unrivalled and even now it takes my breath away.
The campus is close-knit and everything is available in walking distance. Immediately, stepping on to the beautiful Loughborough campus on a gorgeous summer day I knew I was in love and this was where I belonged. I went home and accepted my offer that night.
When I finished applying to universities in year 13 it was only October and the further, I got into year 13 the more I realised I had made a mistake in the universities I had applied to and the course I had originally applied for. I became more and more conflicted with which of my A level subjects I wanted to continue to study, and I thought to myself why can't I do both? Knowing I had made a mistake with my university choices meant that I had to go through clearing. Searching for courses that would allow me to do biology and physics led me to Natural Sciences. Even after realising the physics pathway was not for me after one semester, I began studying material science, which combines everything I loved about physics but also areas of chemistry and maths I was missing. Natural Sciences was everything I wanted from a university course and it allows me to develop my passion for my chosen pathways separately and more importantly it allows me to intertwine my love of interdisciplinary science.
The best thing about Natural Sciences for me is the variety, I love that there is the opportunity for me to specialise without having to sacrifice my interests in other areas. Instead of being herded into one way of thinking I am encouraged to constantly broaden the way I think and seek ways of overcoming challenges that involve teamwork and bringing multiple concepts to solve one problem.
The quality of teaching at Loughborough is exceptional, but there will always be some lectures that you will prefer to others. However, one thing the pandemic has shown me is how passionate my lecturers really are about their subject and how much they care about passing their material onto you. Even online learning has been outstanding, and I have a much greater appreciation for my lectures than I did last year, your lecturer is always willing to answer your questions, read your work or help you look for placements/internships. I really appreciate how much they care about Loughborough.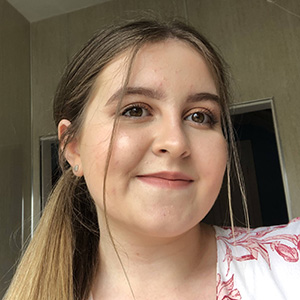 One of the favourite things is lab work, the amount and type of lab work you get depend on the pathways you choose; someone who studies the chemistry pathway has more labs than someone who studies the materials pathway for example. Materials Processing is one of my favourite modules and has a laboratory element. First-year Natural Science students don't have labs like a first-year straight chemist or biologist would have etc but when it comes to actually taking part in labs in second year you don't feel disadvantaged, the lecturers and lab technicians are incredibly helpful, understanding and accommodating so you get the most out of labs. My materials labs have definitely been my favourite aspect of this year.
The support from my department has been phenomenal and I unequivocally know that should I need it again, it is there. I found leaving home and settling into university very difficult and I was not enjoying one of the pathways I had chosen. I had a very reassuring chat with my amazing personal tutor (Dr Sandie Dann) and the Natural Sciences course director (Dr Paul Roach) and within a week we had a solution and now I could not be happier with my course and within university life. Every first-year student, international student, Erasmus, and foundation student is assigned a peer mentor who is there to support you and answer any questions throughout the year, I found this so helpful for settling into university life. Any help or support is always given to those who ask for it!
I have yet to complete a placement year, but I am currently planning to undertake a placement year while at university or studying abroad. I have never been sure of what career I would like to do but a placement year would put me one step closer to knowing and allow me to earn whilst I am learning. I think a new environment would be beneficial for me as I grow into adulthood and learn more about who I am and what I might want to do in the future.
Although I am not sure of what I want to do when I graduate, teaching is an attractive profession to me. My Loughborough degree in Natural Sciences would be very useful if I were to become a high school science teacher as I have some background in all areas of science. If I were to choose a career more lab-based then my degree would support me in not only my laboratory skills but also in my theory. A Natural Sciences degree from Loughborough is a degree that would teach you to think out of the box and approach real-world problems with a multidisciplinary aspect to push the boundaries of what we know about the world around us.
A lot of people who are thinking about studying Natural Sciences are people who maybe feel a little bit lost or cannot decide between their science subjects and that is completely okay! Studying Natural Sciences lets you take pride in your curiosity and it welcomes that indecision because the world is not just one thing, it is not split into neat categories of physics, maths, biology and chemistry, the world is a mismatch of each category and only those whose study spans more than one discipline can work to understand it. Natural Sciences is a relatively new degree and if you want to be one of the course pioneers then Loughborough is ready to welcome you.
Loughborough is a campus university, but it is by no means small, the Loughborough campus is a community and a home from home. Everyone on campus is friendly and kind, if you want a family then the Loughborough Family could be for you. The atmosphere at Loughborough is inclusive, diverse, and happy.
My favourite thing about being a Loughborough student is the sheer number of opportunities you can be involved in and all of the new things you can try. It doesn't matter whether you're good at it or not, being a Loughborough student gives you the freedom to be you.