Luke Ashworth
Course

Subject area
Undertaking a placement was a no brainer! It is getting increasingly difficult to secure a graduate job. Taking part in a placement gave me the opportunity to gain the experience that employers are looking for in a candidate.
My placement was at Fourth Floor – a creative influencer marketing agency. Fourth Floor weren't advertising a placement, but I sent an email and secured a week of work experience first. It helped me get to know them and to check if there was a mutual fit. By the end of the week, I had an offer to come back full-time.
I worked on the campaigns team, where I organised and executed influencer marketing campaigns for video game publishers. This involved working with lots of content creators or 'YouTubers'. One of the best parts of the job is seeing content go live, especially if there is a positive reaction from the audience.
My course involves research methods, something that is crucial to psychological research. I applied this within my placement to lead Fourth Floor's research into TikTok and how we could use it within our marketing campaigns. Practical modules from my first two years at Loughborough helped me to estimate costs and share this data with the rest of the team.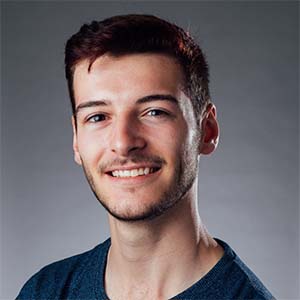 Loughborough has a great support centre for maths and statistics (MLSC), which is really useful if you need an extra hand. The support is available across each year of your degree too; it's not just for freshers. In Second year, I received some great tips about my CV and how to prepare for interviews. This helped my confidence when applying for placements.
The experience I have had on placement has helped me secure a graduate job. I am heading back to Fourth Floor as a Campaign Manager, taking on further responsibilities within the company and helping to drive it forward into their next stage of growth.
I watch a lot of YouTube in my spare time, so I already had a good understanding of the content creator ecosystem. Video games are also one of my main hobbies, so this was a natural fit.