Lisa Lo
Current student
Subject area
The reason I chose to study at Loughborough University was because I saw that the Product Design Engineering course offered a variety of topics including Materials and Manufacturing Engineering, Additive Manufacturing and Sustainable Manufacturing. The vibrant campus also swayed me towards choosing Loughborough as the place for my undergraduate studies.
Although I didn't know what engineering was when I was younger, I was always fascinated by how things worked and would often disassemble items around the house. My interest in engineering continued through secondary school and was reinforced through my design and technology and art classes.
Although I didn't go on a placement, I did take part in the Innovation Driven Enterprise Academy (IDEA); it is a summer programme offered by Loughborough University for engineering and business students to work in multidisciplinary teams to develop student-proposed business ideas. My team consisted of two engineering and two business students and together we set off to develop an affordable waste management system to help tackle the problem of recycling contamination (when materials are thrown in the wrong bin, causing the entire bag of resources not to be recycled due to contamination). We hoped to improve recycling rates and reduce long-term costs in medium to large sized organisations.
I like to do a lot of volunteering in my spare time, including running the Loughborough Design Society during my second year. Creating a community that brings people interested in design together to share knowledge and ideas is one of the highlights of my time at Loughborough.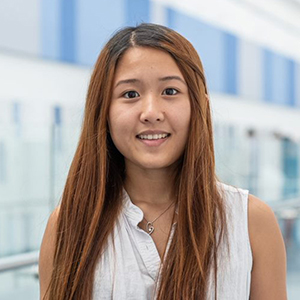 I have also been a Wolfson School Action Rep, planning volunteering projects such as walking sheltered dogs, helping local scouts gain their electronics badges and promoting STEM subjects within the local community. In my final year, I will be focusing on working to support CodeLab Loughborough, a new campus-wide coding community that runs weekly coding workshops for interested students.
As a Product Design Engineering student, you'll face a lot of challenges including how to work with others who, perhaps, have different working styles or pace when you are undertaking projects. I would say learning how to work and communicate effectively with your team was a whole new challenge for me, aside from the typical academic challenges. After university, I am hoping to pursue a role in project management. Then, I am thinking about doing a master's in the USA. Overall, I believe my time at Loughborough has helped me build an awareness of all the minor considerations that are integrated within product design, project management and enterprise.
As cliché as it may sound, my advice is to just do it. Most importantly, take the first step, as only you will know whether a career in Engineering is really for you.