I first came to look around the campus on an open day and I immediately knew Loughborough was a university I wanted to come here. From the lovely greetings from the student ambassadors when arriving at campus to the academics I met on the day who made me feel very welcome. This was an imperative need for me to have a great campus environment as this is simply something not as achievable for city university campuses. Overall, I knew by talking to the current students I would be fully supported by University from the first day I arrive and this in-tandem with the layout of the course suited me perfectly.
When applying through UCAS I applied initially to do the straight physics course. However, after my A-level results I did better than expected in my Mathematics A-level. Therefore, I decided to change my course just before arriving to the university. In which the department was very understanding and was changed with ease.
In particular the physics aspect has something I have always been interested in from watching the Brian Cox documentaries on the BBC from when I was younger and being able to study physics at school which allowed my passion for the subject to grow.
Changing to Physics and Mathematics was the best decision I have made. This is because it allowed me (especially in my first two year) to be split evenly between the Physics and Mathematics departments. This allowed me to meet more people in lectures while also being able to learn some interesting and fascinating mathematical concepts which have allowed me to flourish in my later years of my degree especially when moving into my final year project.
The teaching quality at the university is very high, there are many academics who are very passionate and love the area that they lecture this comes across to the students – especially from the differing styles between departments and lecturer. In addition, they are always able to adapt to students' feedback often through early module feedback which, is very helpful to enhancing the experience for students undertaking that particular module.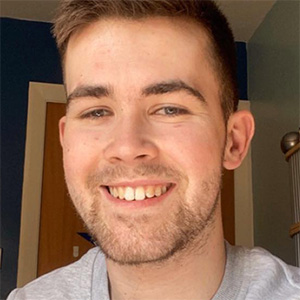 Before coming to Loughborough, I came with the thought that I wasn't interested in the practical/laboratory side of physics (in comparison to more theoretical study) however, I was very impressed with the quality of facilities especially that of the STEM lab, which through my degree offered a great place to undertake my laboratory modules that overwhelming enhanced my experience in this.
My favourite project would definitely be my current final year project, this is the opportunity to use all my experience throughout my degree in looking at a research topic of my choosing with a supervisor with a high level of expertise in this area. I really enjoy the opportunities to have discussions with my supervisors in these areas and discuss my findings and working with him to help to understand what they may mean.
In addition to this I enjoy the degree of flexibility this has offered me so far in terms of my final year project research and I am looking forward to completing this to the end of my academic year.
The department has a great personal tutor system, in which every student has a personal tutor which, is on hand to help and listen to problems wider than just the academic side of university, these are often through set personal tutor meetings each term, but all tutors are always at hand to meet outside these times.
On particular time this has helped me is through my decision to a masters, my personal tutor was able to help me discuss through the positive and negatives of doing this and help me make the correct decision for me to stay on for the integrated masters.
I will be continuing my journey at Loughborough by studying a PhD and one thing that is certain is that even through the pandemic, Loughborough has ensured that the assessments we have undertaken are to the required level to validate my achieved level of success in my degree. With this and the great support of the careers network at the university that will support me even after I have initially graduated, I know I will be support well by my Loughborough degree in which ever path I decide to take.
The main thing I would say is for you to get involved as much as you can. By being involved with both departments you can take advantage many opportunities that come your way such as being a course representative to being a Peer Assisted Learning Facilitator which both have allowed me to develop many skills throughout my time here.
In addition, there are many lecturers that are at hand to offer advice and help whether that be personal or academic related. I know by taking advantage of this I have developed not only my skills academically but also my general confidence has increased aswell by having this involvement.
The social atmosphere on campus is great, whether that be during the day around lectures or to the student union events. There is something for everyone which allows for such a great atmosphere on campus, as we all are part of the Loughborough family.
One of my favourite things about being a Loughborough student is the level of support you receive while being here. I always feel like the University goes above and beyond to help through the problems that arise throughout a university degree and there is always someone on hand to talk to. This has been especially evident through the pandemic, where I received calls/meetings around the height of the pandemic before the summer exams to just simply discuss how I was feeling and coping with the situation as it was at the time.